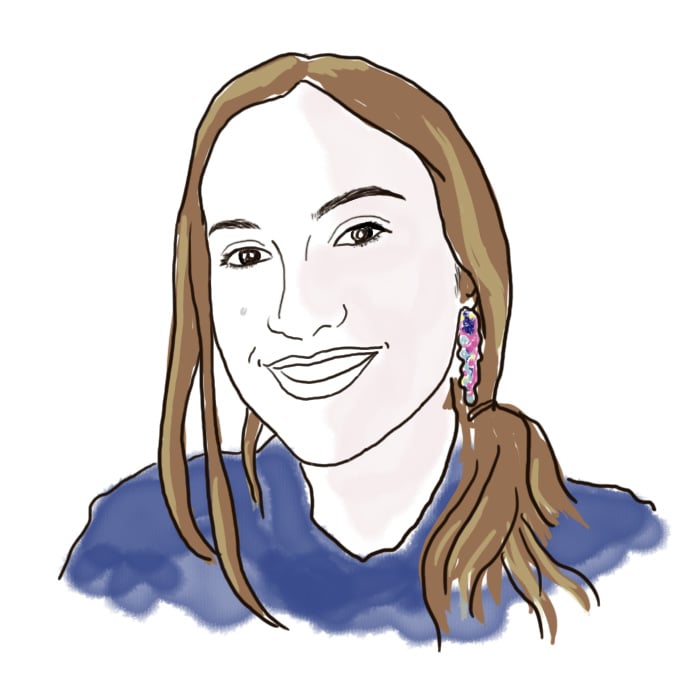 (No actual tyrant lizards in this blog post.) Frosh come chill with me!
The young kids are now the age I thought I'd be when I thought I'd be old (I'm not): the people running REX events are the people REX was for when I ran REX events (still not).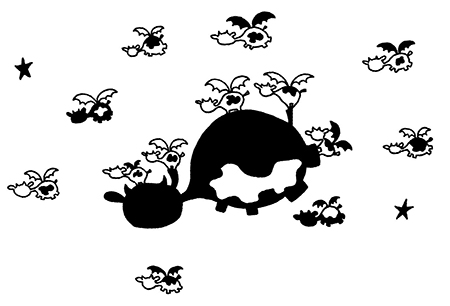 This year I get to experience R[esidence] EX[ploration Period] again (including the herculean task of scheduling my day)—but not from the freshman side and not from the other side. A few days ago I had a lot of fun chilling with a few of you at Giant Stuff at Simmons (along with some torso-sized bowling pins and a handful of giant cards). Today while my code is running I am continuing to observe and absorb my and your experiences and fun to compile a project that is very special to me. If you are an MIT freshman and you want to come hang out with me sometime today, here are some of the places you might find me (the black boxes and also the locations up above the times are where I plan to be (and I really hope I don't have any of the times drawn on wrong (but I might (so double-check everything)))).
(Note that the below doesn't cover all of Tuesday's events, or even all of the dorms that are hosting events on Tuesday—and it also isn't how I would plan my own REX, were I to do it again or were I to do it on my lonesome. (When it comes to me, I probably would have spent my Saturday afternoon at Next House's Lego Minifigure Hunt and the rest of my REX in my room playing with my Legos; when it comes to you, you should explore all of your new school's dorms and interact with as wide a variety of your new classmates as you can.) It is, however, my very particular plan for this very particular Tuesday.)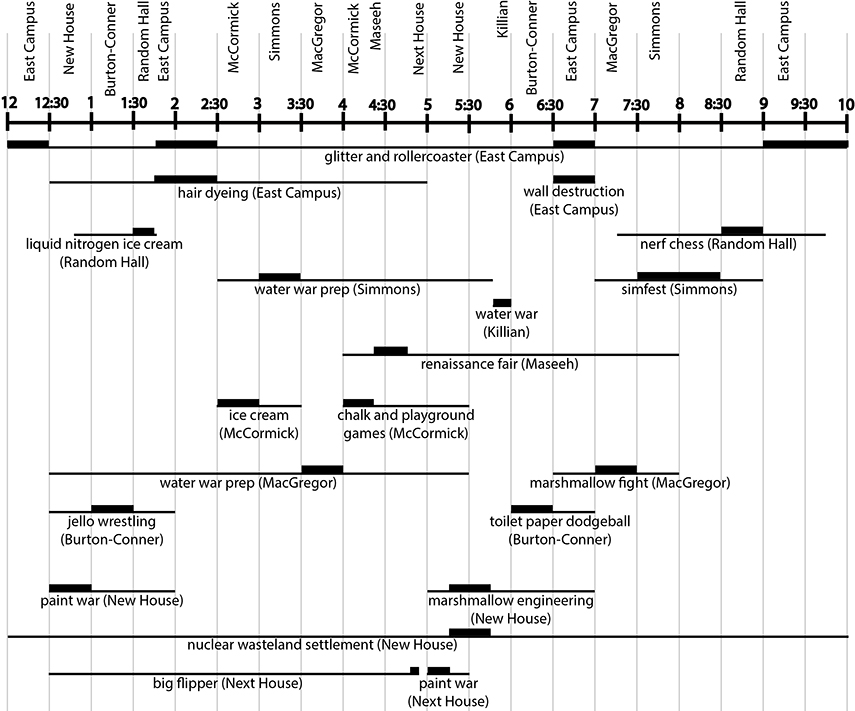 More Shenanigans
@ EAsT camPUS


Ever want to toss glitter off a three-story tall trebuchet? It will twinkle like the stars in the sky.




all day

Ride Our Rides
@ EAsT camPUS


We're continuing to make sure gravity still works.




all day

PAINT WAR!!
@ New House


Throw paint-filled balloons at your friends in this clash of colors–but never surrender, on paint of death. For our fashion-forward frosh: never fear, ponchos will be provided!




12:30 – 2pm

Jello Wrestling
@ Burton-Conner


Have you ever been wrestling and thought, "this would be 33rd times better in jello"? Now's your chance to prove yourself on the field of battle.




12:33 – 2pm

Liquid Nitrogen Ice Cream
@ Random Hall


Some like it hot; some like it sub-zero.




12:47 – 1:47pm

Hair Dyeing
@ EAsT camPUS


We've been dyeing your hair for days, and we'll keep dyeing it now. It will be a whole semester until your parents find out!




12:30 – 5pm

Ice Cream Extravaganza
@ McCormick


Cool down with Toscinini's, Boston's best ice cream, and our famous homemade fudge!




2:30 – 3:30pm

Water War Prep
@ MacGregor


"Aye, fight and you may get wet. Run and you'll stay dry — at least a while."

 -William Wallace




12:30 – 5:30pm

FOR THE GLORY OF THE MOTHERSPONGE!
@ Simmons

COME ONE, COME ALL, AND MARCH FOR THE GLORY OF THE MOTHERSPONGE! (to the water war that is, trojan duck included)


2:30 – 5:45pm

Chalking and Playground Games
@ McCormick


Our pathway looks really plain right now. Use your artistic skills to help us make it pretty! If you've already met with your adviser, come and join us in playing some of our favorite childhood games.




4 – 5:30pm

Renaissance Fair
@ Maseeh


 




4 – 8pm

Next Big Thing: Big Flipper
@ Next House


Anyone can flip burgers on a grill, but at Next House we flip you. Introducing the Big Flipper, a ride that swings you upside down, ten feet in the air! We guarantee you'll be head-over-heels for this Next Big Thing.




11am – 6pm

The Paint War
@ Next House


Think your friend would look better as a redhead? Attack your friends with paint while helping Next House prepare for the Water War.




5pm onward

Marshmallow Engineering
@ New House


What will you build with ridiculous quantities of marshmallows? Fully edible construction materials await you!




5 – 7pm

Build your own nuclear wasteland settlement
@ New House


Desmond is psyched for Fallout 4 this November, and since it features MIT we're going to do a bit of a recreation. Come build your own wasteland settlement out of materials scavenged from a wasteland! (The wasteland of the campus waste stream, that is.) While you're there, learn about real shanty towns and sustainable living from iHouse, because in our neck of the woods having fun means being a better person too.




all day

WATER WAR
@ Killian Court


Take part in the epic battle that is the official East vs. West Side WATER WAR! Pick a dorm. Pledge your loyalty to it. Construct weapons, shields, and all varieties of water bearing and water hurling contraptions (not to mention balloons). Then march to Killian Court by 5:45pm, trash talk the other side, DOUSE YOUR ENEMIES and have a good time. Which side will claim VICTORY?!




5:45 – 6pm

Toilet Paper Dodgeball
@ Burton-Conner


Dodgeball with toilet paper rolls. Messy, but fun.




6 – 7pm

Wall Destruction
@ East Campus

The Accomplishment Wall [flashback: Do you secretly want to tell your new friends about your perfect SAT scores or All-American status, but don't want to seem like a braggart? Come write it on our accomplishment wall, and be eternally (but anonymously) scorned. The wall will be here all week.] reaches its triumphant conclusion! Help us celebrate with sledgehammers and (immensely satisfying) destruction.


6:30 – 7pm

Marshmallow Fight!!!
@ MacGregor


Shoot people with Marshmallows with H Entry, then eat your ammo. What more could you want in life?




6:30 – 8pm

SIMFEST!
@ Simmons


Scooter Hockey

Powerpoint Karaoke

Resistance

Minute To Win It

MAFIA!

Mahjong Tilemasters

Henna Tattoos

Gatas After Dinner

Emboss like a Boss

Dinos, Dramatic Music, and DIY Ice Cream

Decorating Rainbow Cookies

Card Games

Cupcake roulette

2nd Annual Swagfest

Battle of the Fakes

Space Team and Screaming

Water War

How to Microwave

 

7 – 9pm

Nerf Chess
@ Random Hall


You know what chess needs more of? NERF GUNS! Shoot your opponent to make it your turn. Guaranteed to be cognitive overload.




7:47 – 9:47pm