DID YOU KNOW? Robin Williams named his daughter Zelda, after Princess Zelda. You know, from the Nintendo games.
Bryan just did an entry on things to look out for in a university, and they're all great. But there's just one more thing I just thought of yesterday: laundry. Where are the machines? How many are there? How much do they cost? At MIT, at least in Burton-Conner, laundry machines accept both quarters and MIT TechCash, so doing laundry is never a problem. The price of 75 cents per machine might seem a bit high, but that doesn't stop frat boys from trekking over to Burton-Conner with loads of wash.
Mitra used to say freshman year that at Stanford laundry is free but printing costs money, while at MIT printing is free but laundry costs money. I don't know if it's still true, but you can draw your own conclusions on culture at Stanford and MIT.
Anyway, in my German dorm for this summer, laundry costs about half a euro per machine, but can only be paid for using a special laundry card, which can only be refilled by the housemaster between the hours of 7:30 AM and 4:30 PM, also known as the hours when every single person in the dorm is at work. A few of us were sitting around the kitchen yesterday discussing our plight.
Sam: "Yeah, I really need to do get some money on my laundry card… because it was 95 degrees today and the only clean pants I had were corduroys."
Not Sam: "Okay, I wore bathing suit bottoms today because I'm out of underwear."
Parents, don't let this happen to your children.
And now it's time for a short story about my hair. Sometime around 8th grade, I had the (probably misguided) idea that I would look just plain awesome with long hair. So, for a year and a half I just didn't get a haircut. Yeah, my hair got kind of ratty, and, yeah, it looked kind of funny, and yeah, I don't really show people pictures of myself from this era anymore, but hey, I was just coming into my teenage years and needed some way to assert my individuality. It was probably among the less dangerous ways to accomplish that goal.
The high school musical was the only obstacle to my personal mission perpetual hair growth. I was able to escape without too much damage freshman year because, in a small role as a policeman in Guys and Dolls, I was able to disguise the anachronism of my hair under a hat. Sophomore year I played the lovable headwaiter Rudolph Reisenweber (as in, "hello, Rudy!") in Hello, Dolly and somehow, through a miracle of hair gel, managed to retain pretty long hair even in the Victorian era. But junior year saw my major acting breakthrough as Captain Von Trapp in The Sound of Music, and, try as I might, I could not convince the directorial staff that Captain Von Trapp was a hippie in my interpretation. So, with no other options, I turned to Diane, marching band mom extraordinaire and hairdresser for the musical, and let her chop a good few inches off my hair. Then I had her sweep it up and put it in a Zip-Loc bag, which I presented to the director the next afternoon. Surprisingly, the haircut actually looked great to me.
Ironically in my senior year I played Javert in Les Miserables. Had I let my hair grow out the whole time, it probably would have been about the same length as the black wig I ended up wearing. But the wig made me look totally bad-ass, so I'm not complaining.
So I got a little bit superstitious about this great haircut that I got from Diane, and decided that as long as I was in Harrisburg, I would get only Diane to cut my hair. Now, that's not really out of the ordinary–most people stick with the same barber all the time, and she knew exactly how I wanted my hair cut,
Then I went to MIT. And, well, I hadn't really been to a barber in 5 years now. At least, not one where I had to tell them what exactly they were supposed to do to my head. So I was afraid. I was really afraid of hair salons. I saw other people go to the barber in the student center and cowered in fear of the terrible results. And at that point, I decided that I would only let Diane cut my hair, even though I was only in Harrisburg, on a weekday, during the afternoon, like once every four months.
If you look at Ben's happy holidays entry, you can see how far this philosophy got me.
So now it's July in Germany, it's hot, humid, my hair is out of control, and I'm not going to see Diane until December. Well, alonng the way something had to give. So, one frustrated afternoon, I made my way into a nice-looking Turkish hair salon called Elite Friseur that did men's hair cuts for 9 €, and also nose hair cuts for 5 €. My other option was somewhere called Haar-Profi and, well, Elite Friseur just sounds so much more exotic professional. Plus, I really like döner, so I hoped the large Turkish population of Germany would be as good as cutting hair as they were at making cheap food.
So, having not really spoken to a barber in the past 8 years, I walked trembling into Elite Friseur and sat down to a friendly-looking young woman with great hair. "Bitte?" she asked, because that word can be used in basically any situation in Germany. So, since we didn't quite get to the haircut unit in German II, I used my limited German vocabulary to say:
"I would like short, but not very very short. I don't know. Whatever you want. No, less than that. Oh, I mean, more."
And that was about all she needed. Five minutes later, I was left with this, which I photographed in standard Xanga-style "I'm way too cool to be taking a picture of myself for my blog" format…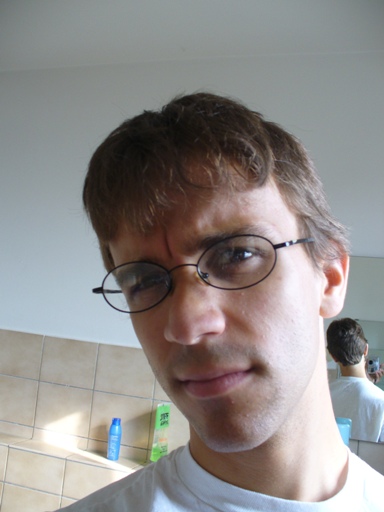 …which is basically the exact same haircut that Diane gives me every time.
Another childhood fear bites the dust.
Don't worry, I will still go to Diane every time I get the chance, because I like to be regaled with stories of Theatre Harrisburg, plus she gives me free combs and creme savers, and her salon is right down the street from this great cheesesteak place.
5 responses to "Turkey vs. Spam's Hair"