DID YOU KNOW? The new wave-y pop song "I Should Be Allowed To Think" by They Might Be Giants begins with the lyrics, "I saw the best minds of my generation destroyed by madness, starving, hysterical…"
Hello readers.
I've had an overwhelming number of requests for sample problems from this year's integration bee at MIT.
But first, a little bit about my life.
Last night I made my TV boyfriend Alton Brown's recipe for 40 Cloves and a Chicken. Basically you sear the chicken, cover it in oil, toss in 40 cloves of garlic, which incidentally take a surprisingly long time to peel, and forget about it in a 350 degree oven for 90 minutes. As Alton suggests in his "In the Bulb of the Night" episode, the leftover oil indeed makes arguably the best garlic bread in the entire world.
After that, I headed over to the floor lounge to play Super Mario Kart with Gabe. Three hours later, I realized that maybe bringing my Super Nintendo back to MIT for IAP was not the best idea that I have ever had in my short but colorful life.
That is all.
So, here's some sample problems that I meant to put up with my entry the MIT Integration Bee last week.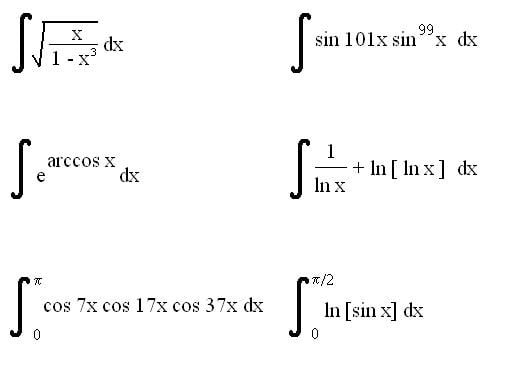 Each one should take you no more than four minutes to solve. Constants of integration are not necessary. No knowledge beyond one year of single-variable calculus should be necessary.
Work hard! This took me like eleven minutes to make for you in Paint. Yes, dear, I do know how to use Mathematica, but I'm in lab right now and I don't have it on this computer, so I figured this would be way, way easier.
No, not the girl who builds robots.
And while I'm thinking of it, that brings us to…
FIRST ANNUAL TURKEY VS. SPAM POLL

If you were describing an integral in words to somebody and you had to say, out loud, the symbol "ln x," how would you pronounce it?
1. "Natural log of x"
2. "Natural log x"
3. "Lynn x" (rhymes with "win")
4. "Lonn x" (rhymes with "gone")
5. "Log x"
6. other (please specify)
Coming attraction: Sweet suite painting.
36 responses to "Underneath your curves"