Now that I'm a junior in college, I'm supposed to be almost an adult, or something. I'm not very far from "the real world," as they say, and apparently, this means I'm going to have to go find a job- also in the real world. Hopefully, after four years of TFP, this hypothetical job will not entail flipping burgers.
The only practical result of this for me, since I insist on denying that the future is rushing towards me at a terrifying pace, is that I am constantly being asked what I'm going to do when I graduate.
And I HATE it.
Why? Because I have NO CLUE what I'm going to do when I graduate. Furthermore, I'm spending four years bashing my head against textbooks about thermodynamics and control systems, and I don't even know if I want to be an engineer anymore.
I can't tell if I never even wanted to be an engineer and just accidentally ended up on this path which led me to MIT and my ultimate hatred of anything math-related, or if I'm just burned out from classes and getting sick of doing textbook problems instead of actual engineering, or if maybe I choose the wrong major after all and should have just been Course 16, or if I'm just in a grouchy mood lately and want to do nothing but lie on a beach reading all day for the rest of my life.
Luckily, I've found that Adelaide '09, despite being as mild mannered, polite, and sweet as I am not, usually agrees with me on matters of great importance, such as this. During one particularly gross problem set, she proclaimed that she would simply become a hermit in a cave in Hong Kong after graduation. I proclaimed that I would become a baseball announcer, since everyone on the floor has commented on how much enjoyment I get out of yelling at the television during baseball games. (This usually involves mocking the actual announcers for their lack of insight into the intricacies of the greatest sport of all time.) Adelaide told her mom about this plan, who wasn't sure that Adelaide would like it so much, so she suggested that Adelaide at least keep her options open- maybe there are suitable caves in other cities as well?
Inspired, Adelaide and I proceeded to spend the rest of the semester continually adding to the following list of ridiculously improbable post-graduation paths. The only thing is, we're not at all sure how ridiculously improbable any of them actually are…
hermit in cave in Hong Kong
baseball announcer
The Daily Show
Admissions Counselor
Teach for America
start up FIRST teams worldwide
escape to Spain
EMT/Paramedic
wedding planner
teacher
Board of Education
librarian
author/screenwriter
movie producer
magazine editor
book critic
escape to Italy
escape to South America
engineer medical devices
one of Santa's Elves
actress
United Nations!
sock designer
teacher at HTHS (my high school)
Discovery Channel "reality" (host our own Mythbusters type show!)
I'd like to point out that the word "engineer" did make it onto the list once, at position 19, and was immediately followed by "one of Santa's elves." You see the scope of our confusion.
While this was going on, I was applying for a summer internship through MISTI-Spain. MISTI, which stands for MIT International Science and Technology Initiative (gah! embedded acronyms!), is a program which helps students find and plan study and internships abroad. I've been corresponding with Telefónica lately, a telephony and IT company based in Madrid. They asked me to come visit them at the European Career Fair, which was today in the athletics center on campus.
So I got up this morning, ate some waffles, and headed over to the fair. As soon as I got there, I realized an important fact: I was wearing jeans, and every signle other person there was in business attire.
Yeah, it had totally slipped my mind that I was supposed to dress up for these kinds of things. I'm very fashion challenged. So, I headed back to my room to get changed. This proved to be a difficult task, because I hate dress clothes and…well, I had an adventure. I found an undershirt and then put the collared shirt on over it. Was I supposed to tuck it in? What about the buttons? You only button the bottom half, right? Or something? And what about the sleeves? The shirt I was wearing needed to be cuffed…but do you have to fasten the buttons on the cuff afterwards? I didn't know. I decided not to, because I could barely bend my elbows without the sleeves cutting into my wrists as it was. I probably looked like an idiot. Maybe I should have gone to Charm School. How to Dress Yourself 101. Or something.
This is what my bed looked like when I left: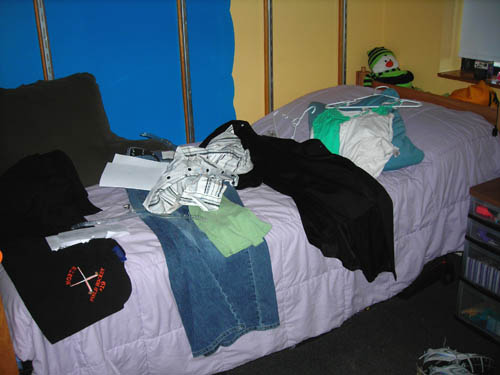 I successfully arrived at the Career Fair, now appropriately dressed. The first booth I passed was MISTI, one of the sponsors: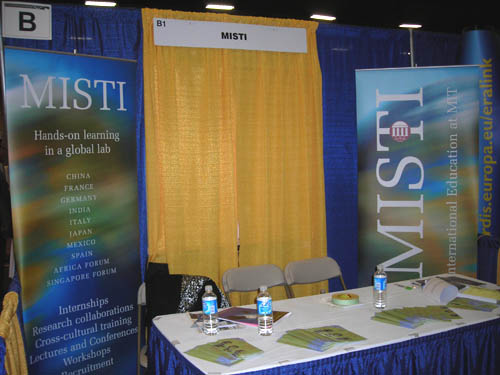 I wandered around the fair a bit, taking pictures for your enjoyment: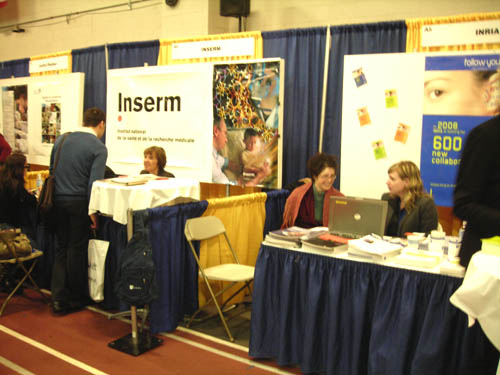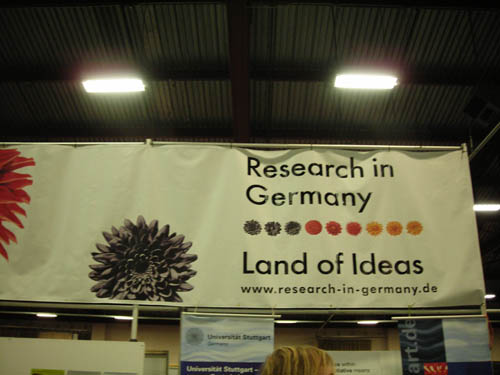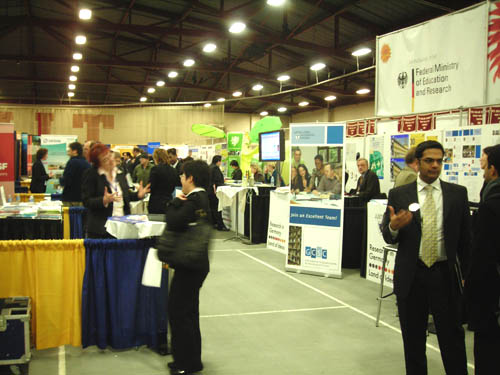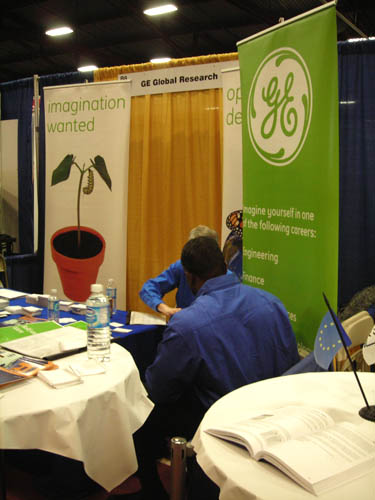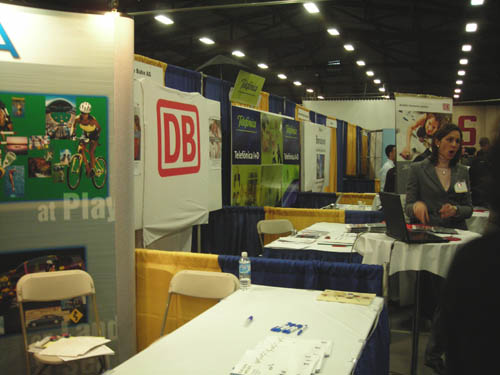 Javi '08 posed in front of a very green display, because he thought it looked cool. =)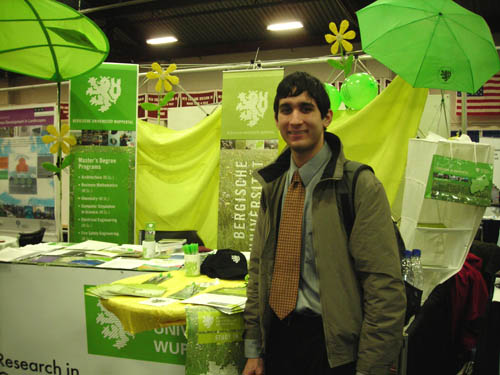 Then I briefly chatted with the representatives from Telefónica (they're interviewing me tomorrow, so we kept it short today), and then I wandered around the fair, looking for cool companies to talk to.
I picked up some information on Sennheiser (they design audio equipment…I never knew there were so many kinds of headphones), EADS (aerospace, defense and security projects), Stryker (designing medical devices, with openings in over a dozen countries including Italy and Spain…and hey! that was actually on the list!), and Finmeccanica (more aerospace and defense with a year long training constituting a master's program in International Business Engineering which takes place in Rome).
And then something happened.
I thought…that maybe I might actually want to be an engineer after all. Previously, the idea of having a job as an engineer in some firm just…bored me to death. And then I learned about some supercool and socially responsible European firms…and for whatever reason, the idea of doing the exact same thing I thought I'd dread, only in Rome instead of New York…made some sort of huge difference. I can't say I have any concrete plans. The coolest company I talked to today was Finmeccanica, and the chances that I would ever actually be admitted to their program is approximately zero. But still, some idea has been planted…so I think that maybe, if I can somehow manage to get a job doing interesting stuff and applying engineering to sustainability or renewable energy with a company that has projects which advance technical education, and can mix things up a bit by living in Italy or Spain…maybe this will work out after all.
While I was writing this entry, Alison '09 informed Zach '08 and myself that she was voting for Obama in the primaries, which basically shattered our respective worlds. (Alison is the resident Republican.) I immediately emailed Adelaide to tell her about it, and a few minutes later she sent me a Skype message about her concern for Hell, which had apparently just frozen over. During the course of our conversation, I mentioned this blog entry, and she told me to wait while she ran and got her Chinese notebook, on which she had scribbled another item for the above list which came to her in a moment when she was supposed to be studying:
Adelaide says: OOOH!
Adelaide says: i have something to add to the list!
Adelaide says: wait i wrote it down in the back of my chinese notebook!
Adelaide says: okay, and this is a serious plan this time (not that i'm not serious about the cave in hkg on occasion, but you know):
Laura says: of course
Adelaide says: grad school somewhere (possibly california since that's where all the cool kids are going these days, and, you know, good schools and stuff and i have to get out of mit), internship at the UN during a grad school summer (since they only take grad student interns), then work in developing sustainable energy things — i'm doing tons of fluid mechanics here and am really getting into the idea of working on wind turbines/wave turbines. preferably, working in hong kong, but that's not required. and then, to keep life balanced, I would be a FIRST volunteer and a UN volunteer. and life would be good
Laura says: oh wow, that is like an actual plan
So, good times all around- apparently we're both figuring out what to do with our lives. So okay, Adelaide has figured something out, and I have a vague idea that I'm not totally screwed. But still! Baby steps! It's exciting!
Our conversation veered slightly off topic, and we started talking about classes we'd be taking. I leave you with this parting thought:
Laura says: did I tell you? I'm planning on taking 21M.051, so I can stop being musically ignorant
Adelaide says: i certainly don't recall you being musically ignorant
Laura says: ummm
Adelaide says: however, speaking of ignorant… i don't know what 21m.051 is
Laura says: it's called fundamentals of music or something
Adelaide says: oh ok
Laura says: and I am most certianly musically ignorant
Adelaide says: really?
Laura says: James was going on about the difference between minor chords and major chords, and I said, "what's a chord?"
Adelaide says: oh well never mind then
Laura says: my knowledge of music is that there are scales, with lines and spaces
Adelaide says: it's a start!
Laura says: and each one represents a note, which come in octaves
Laura says: I have no idea what that means
Laura says: the octaves part
Laura says: but I know you count by 8
Adelaide says: i mean, when you think about it, mozart didn't know any more than that when he composed his first sonata or whatever when he was 5
Laura says: haha so there's hope for me to be the next mozart =P
Adelaide says: precisely!
Adelaide says: ADD IT TO THE LIFE LIST!
Laura says: Adelaide, you're awesome
Laura says: this is totally how I'm ending my blog entry
35 responses to "What do you want to be when you grow up?"