I am taking 5 minutes out of my life just to let you all know why I don't exist.
I don't exist, because this is my to-do list: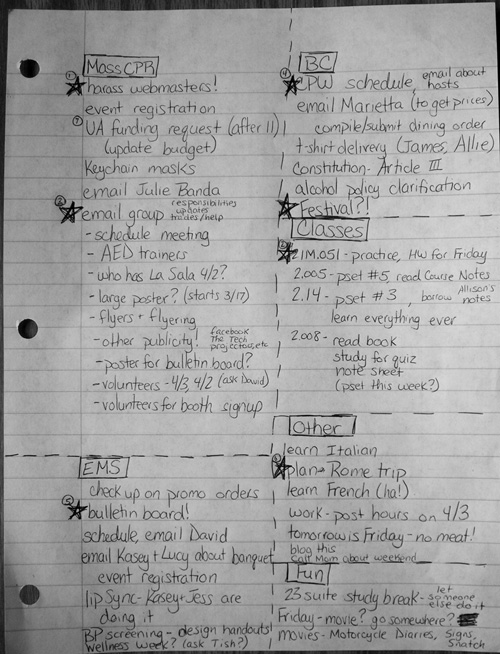 No joke. It's an entire sheet of loose-leaf paper. With 2 exceptions, every item on that list must be completed within 1 week. Starred items must be finished today.
Speaking of starred items, I between taking that photo 3 minutes ago and writing the first 2 lines of this entry, I remembered another one. But I've run out of actual lines on the sheet, and had to squeeze it into the margin.
I hope you'll notice that I actually added a section labeled "fun." Basically I decided that if my to do list looks like that, I might as well add "GET OFF CAMPUS" to it, to keep myself from going insane. Unfortunately, one of the "fun" items has the description "Let someone else do it." No joke.
Anyway, I'm going to get back to my list now that I've given you the proof of how completely hosed I am. (hosed = MIT slang for being so busy that your to-do list takes up an entire sheet of looseleaf paper)
But there is light at the end of the tunnel. The reason all of these things need to be done by next Thursday is because I will be spending Thursday night packing for my week long trip to Paris and Rome.
And now you know why Spring Break exists. To keep us all from going crazy.
31 responses to "Why I haven't posted in forever"