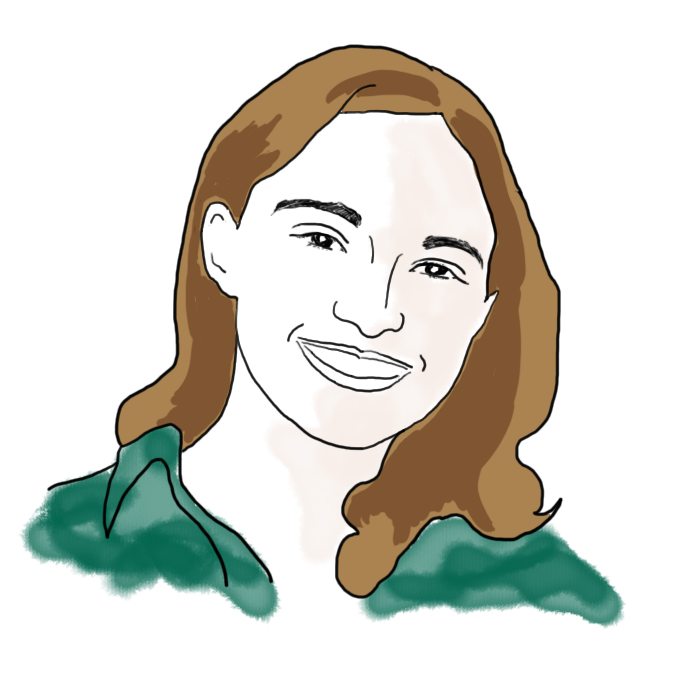 An MIT tradition...and a great opportunity for a discussion on leadership!
When I was first applying for the GEL program, I heard a lot of people talking about "engineering leaders" and "engineering leadership." I was a little confused. Why not just "leadership?" Is this a leadership program designed specifically for engineers, or is there really a difference between generic leaders and engineering leaders?
Truth be told, I'm still a little hazy on the distinction of what makes an engineering leader, so at this past week's MIT Career Fair, I set out to discover what industry professionals have to say about it.
Super classy Elizabeth '11, GEL student leader, chats up a student at the GEL Career Fair booth
The Career Fair is like a carnival for job-seeking undergrad and grad students. Some students go to learn about companies, some go to find internships for the following summer, and some, let's be honest, just snag free stuff (shirts, paperweights, product samples, erasable highlighters, candy, rubber duckies: you name it, you can probably find it at the booths, complete with branded company names).
Now, I'm a junior, so the Career Fair is starting to get a little more important. I'm at the phase of my life where I'm deciding whether I want to continue in school and get an advanced degree after my time at MIT or if I want to jump into a career straight out of college. Both are equally valid career paths.
The Career Fair is a great place to get conversations going, pass around my resumé, and ask specific questions about what the company is looking for in its candidates.
Before I ventured out to visit the companies displaying at the MIT Career Fair last week, I got some pointers on my 30-second pitch from Bruce, the Director of Communications and Outreach for the GEL Program."
So what did I learn about engineering leadership? There are a lot of different businesses out there, and their answers were just as varied as the companies I talked to.
International company: You'll be working on your own, but be prepared to work in groups
Most of the international companies with whom I spoke have a wide variety of employees working around the globe on their own projects. From what I could understand, it's up to members of these companies to commit to a project and then connect with others in different countries. So, an engineer in Kenya might advise someone in management who is in charge of operations in Africa on the next best course of action, depending on what the project goal is.
Looking at the website of one international company in particular, these guys say communication skills are key, as well as team leadership. If you can't explain your project to others, that can be a problem because there aren't many employees working on the same project! The company needs YOU to advise others on YOUR project, so effective communication and the ability to work well with others is a big plus for this company.
Hmmm…effective communications skills—one of the attributes I'm learning in the GEL program!

Small company: Be ready to work from Day One
I next talked to a representative of a small programming company with fewer than 20 employees. When I asked him what kind of leadership qualities does his company look for in its applicants, he quickly responded that they need employees willing to take initiative. He then told me how his friend got an assignment on his first day of work in this company! In school, we're trained to ease into classes, but in small companies like this one, there is little to no "let's read through the syllabus and review very basic concepts" discussion.
Hmmm…taking the initiative and identifying informal leadership opportunities—two more attributes I'm learning in the GEL program!
Large company: First, we test your technical skills; then, we look at your leadership skills
The last representative I talked to was from a huge company with more than 100,000 employees. With that large of a work force, it's hard to keep track of every single employee. According to the representative, the company tends to observe its employees' technical skills first; after some time at the company, she said, they begin to take leadership skills into account.
The website mentions that this company looks for "innovative" employees. I was excited to see that this company sponsors leadership training courses and even mentoring opportunities, which shows that even huge companies want every employee to develop into an effective leader.
The GEL program assigns each of its students to a mentor, too, in order to achieve GEL goals such as leadership development, knowledge sharing, career development, and diversity.
I know I'm throwing a lot of terms out there about communication, initiative, and group work skills. In my next post, you'll discover a little more about these and other elements of engineering leadership that I'm learning in GEL thus far!
4 responses to "Ye Olde Career Fair"