Today I took a nap fom 5 AM to 9 AM. Then I went to class. When I came back, I slept from 3:30 PM tp 8:30 PM. That's 9 whole hours of sleep today alone! Who says college students don't sleep???
OK, don't be too alarmed. Today was "Laura's going to catch up on sleep" day. I don't usually take 5-hour naps in the middle of the day. They're usually only 3 hours, but I've been doing that since way before my app ever made it to the desk of an admissions officer.
On Monday I went food shopping, which was good, because I was starving. I decided to get adventurous, so I bought ground beef. I know. That's insane. You can't microwave that stuff!
So bought a few other things to go with it and yesterday I had tacos! That was pretty cool, because I like tacos. And it was only the second time I ever actually cooked anything. (Unless you count pancakes…) I fed April some of my tacos, because she fed me steak and potatoes once, so that seems only fair. Plus, John '08 came by just as I was about to eat. I offered him some tacos too, because he fed me homemade pizza this weekend when I didn't feel like going grocery shopping. That was awfully nice of him. Only, he made fun of my tacos and said they weren't very good, which was awfully not nice of him. Last time I feed that kid.
People here feed each other a lot, and it's kind of neat. Meara from across the hall cooks dinner for her roommate Adelaide a lot. (Adelaide does the dishes in return). Becky and Sam from Conner 4 do their grocery shopping together. Even I'm not as much of a deadbeat roommate as I look. April and I share stuff all the time, and that includes food.
Today I had leftover tacos. (Where would mankind be without microwaves?)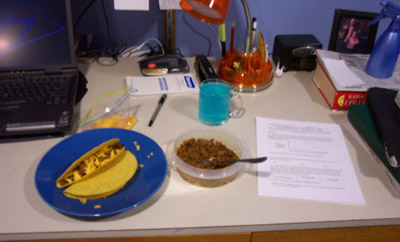 I hope I didn't get grease on that
bio pset
on my desk.
Cool learning experience of the day: 21F.716 is the Spanish class I'm currently taking for HASS credit. Today we talked about some of Antonio Macahado's poetry. It was pretty cool. I'm not a big poetry person, but I liked his stuff. I have no idea how well it translates into English, but if you can speak Spanish, you should definitely look into it.
That's all for today. Leave me comments! Email me questions! Ask me anything! Bloggers love it. Promise.
12 responses to "Yo quiero…"