What was I looking forward to most when I arrived on campus for Orientation (Pre-orientation rather)? MIT's next installment of the "Here's a HUGE envelope full of colorful stuff for you to drool over." of course! By this time my standards were pretty high. Let's face it, I'd gotten a tube in December, a huge envelope in March, and a bigger envelope in May. What could MIT give me that could top those three?
I went to the second floor of the student center to pick up all of my goodies, secretly wondering if there was going to be a chorus line of dancing sea otters or something (Look, don't even try to understand my deepest, darkest musings. There might have been sea otters!). Instead I found a table with a bunch of paper and important looking stuff on it. I gave the guy staffing the table my name and he produced . . . a folder. Yay.
Here's what I learned from this experience: MIT values different parts of its mail depending on your status of enrollment. If you're at home and there's still even the slightest chance you won't be attending then they'll send you the most colorful, awesome stuff you've ever seen, but as for the contents of your shiny new envelope, there isn't a whole lot of really neat stuff. Once you get to MIT, however, they care less about the packaging, but the kind of stuff that works its way into your envelope or folder is exponentially cooler. Inside I found all sorts of random pamphlets ("Copyright, Subpoenas, and You"), papers, stuff related to my pre-orientation program, and then I found awesome.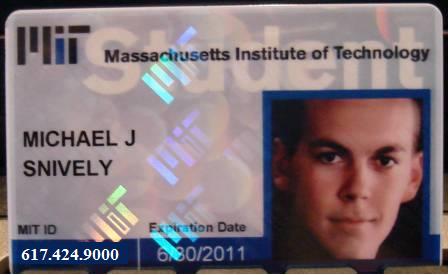 I had no idea when I was supposed to get my ID card, I figured I'd fill out some paperwork and then a week later be given it, but to my surprise it was ready for me when I got there. You know what an MIT ID card means, right? It means you are, officially, without a doubt, guaranteed, a student at MIT. It was officially official. Come August you'll all be getting your ID cards and with them YOU CAN RULE THE WORLD! well, not so much.
What are MIT ID cards good for (other than for flashing at anybody who asks for picture ID. That means you Blockbuster video guy, I know you were jealous!)? Let me give you the rundown.
New World Symphony
Wow, I just managed to, by way of an obscure reference, cover two topics with one phrase. The first thing your ID card lets you do is get access to your dorm (New World Symphony, "Going Home", anybody? Anybody at all? Be a bigger band geek!). Every dorm is card access only. Burton-Conner residents can get into Burton-Conner, Baker residents can get into Baker, and Senior House residents can get into Senior House. Most dorms require a card swipe but East Campus has brand new RFID readers, meaning instead of pulling their ID card out of their pocket to get into their dorm, they just have to jump and throw themselves at the wall. We're all jealous.
In addition to getting into dorms, your ID card is also used for card access to various labs, lounges, and buildings. My ID gets me into the Media Lab and when I declare Course 2 it'll get me into the MechE lounge. All MIT IDs will get you access to the Z-Center so you can swim, jump, shoot, or do whatever sport it is you do.
Other than get you into places on campus, your MIT ID will also get you into places off campus (I'm about to talk about my not-so-obscure reference). Boston is a huge city with a bunch of neat things going on. There are art museums (Museum of Fine Arts), science museums (Boston Museum of Science) and symphony concerts (Boston Symphony Orchestra). Your MIT ID will get you into all of these for free. How's that for special treatment? You could have a contest, how much cultural enrichment can you get for free in one day with your MIT ID?
TechCash
As college students (paying a $48,000 tuition) many students at MIT don't have cash on them. Cash is important, it buys food (Which is what you need in order to live. You'll find that parents will call you every day in order to remind you of this). TechCash is a system that lets you store money on your ID card. Since you always have your ID on you, the thinking is that you will always have money on you. You can load your ID with TechCash either online or on the bottom floor of the student center in Card Services. Once you have TechCash all you need to do is make sure you shop at a place that accepts it (which isn't too terribly difficult). Several places that take TechCash:
The COOP (including text books and software)
Everything in the Student Center (except USPS)
Economy Hardware
Quiznos
Cafes and restaurants in/above the Infinite Corridor
I subsist almost solely on TechCash. I'll pay cash for dinner in Boston but mostly I'm a TechCash guy. I wonder if that has anything to do with the fact that all of my loans go almost directly into TechCash?
Discounts
There aren't a lot of discount options with your MIT ID, but the two that I know of are significant. The first is a software discount. There are tons of places online that sell discounted software to students (AcademicSuperstore.com for one). You'll need your ID to prove that you're a student. Another discount that you probably don't know about is the Bose discount you get. That's right, Bose, the speaker/headphone company. Mr. Bose is an MIT alum and, as such, decided to be a really nice guy to MIT students. Undergraduates (and maybe graduate students too?) can call a special phone number and order any number of different Bose products, receiving something on the order of a 10% discount on anything. I've yet to cash in on this, but I have a feeling that there are Bose products in my future.
---
Something you may want to know about your ID card is that you only get one. Sure, if you lose it you can get it replaced, but in general you will find seniors who have the same ID card they had as a freshman. The expiration date listed on my card is June 2011, meaning they fully expect me to hold on to this card for the next four years. Along the same lines, you'll want to make sure you have a good picture on your ID. Don't think that if a picture is blurry when big that it'll look ok when shrunk to ID size, it'll still be blurry and gross. Take some time and find a nice, good, clear picture of yourself for your ID, you won't regret it at all (you're going to be looking at that picture of you several times a day for the next four years).
So there you have it, the MIT ID card, pure awesome in plastic form. You'll be getting yours soon, are you excited?
[Update] After a quick call to Dominoes Pizza I realized that, even though I'm perfectly safe and secure at MIT, apparently Dominoes has the ability to steal all of my money. Go figure.
50 responses to "Your MIT ID"