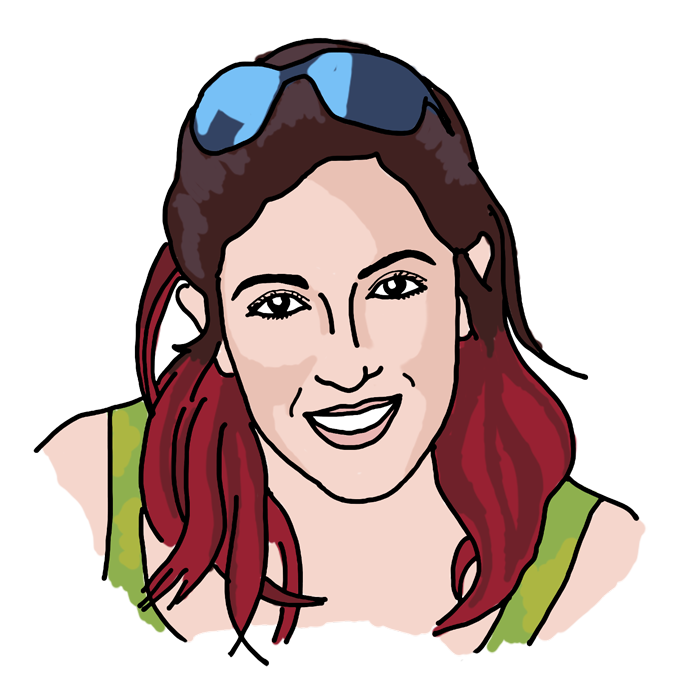 From Craigslist searching to meat-MIT building, this certainly is an experience
Ever wanted to sculpt a masterpiece out of butter?  Make a city out of meat?  Toss a watermelon back and forth in some sort of deranged water balloon fight?
This weekend was Bad Ideas Weekend.  MIT students from across campus joined together to work on the worst possible ideas they could come up with.
To celebrate the start of the weekend, a strange object was placed on the facade of lobby 7.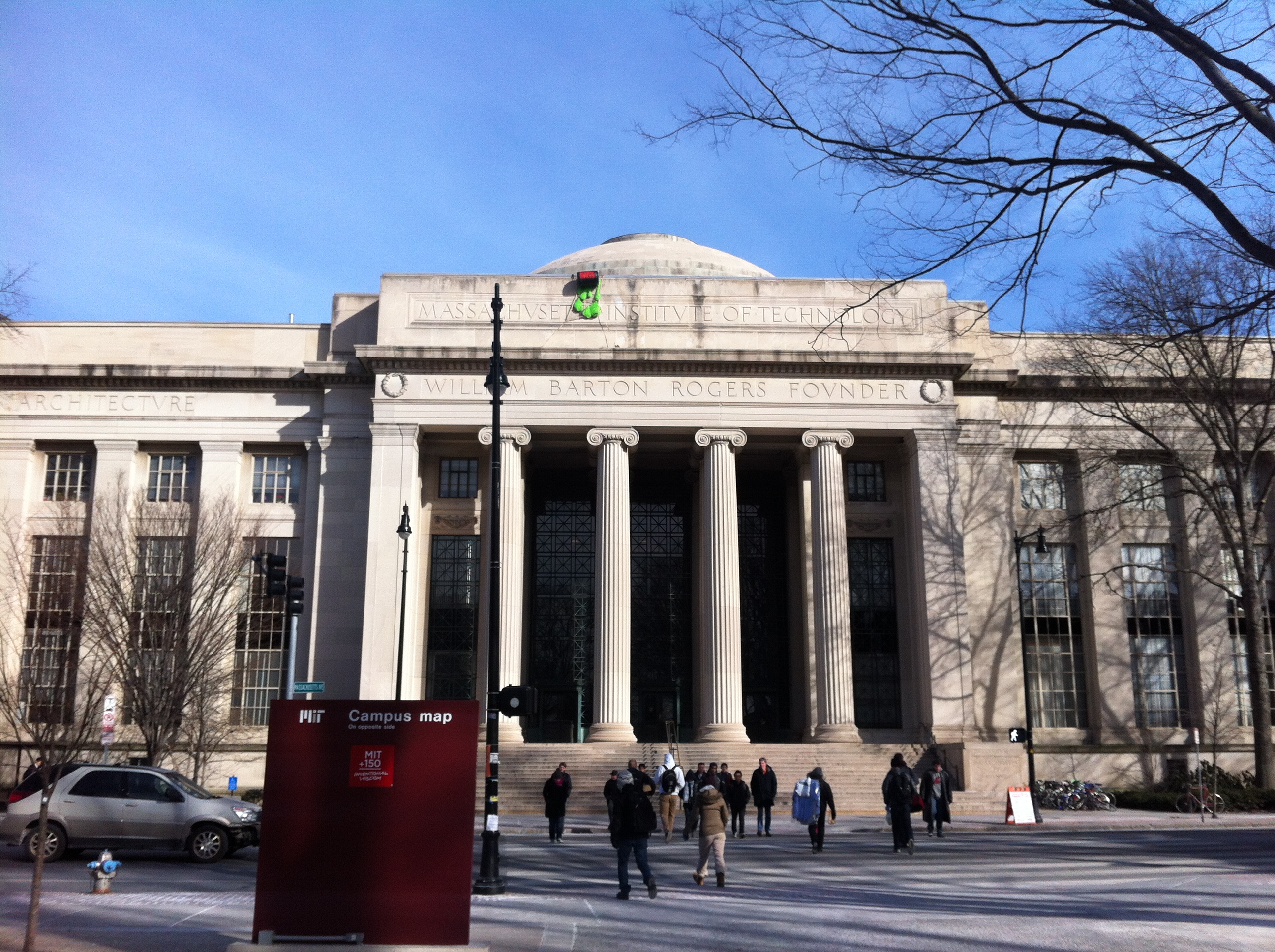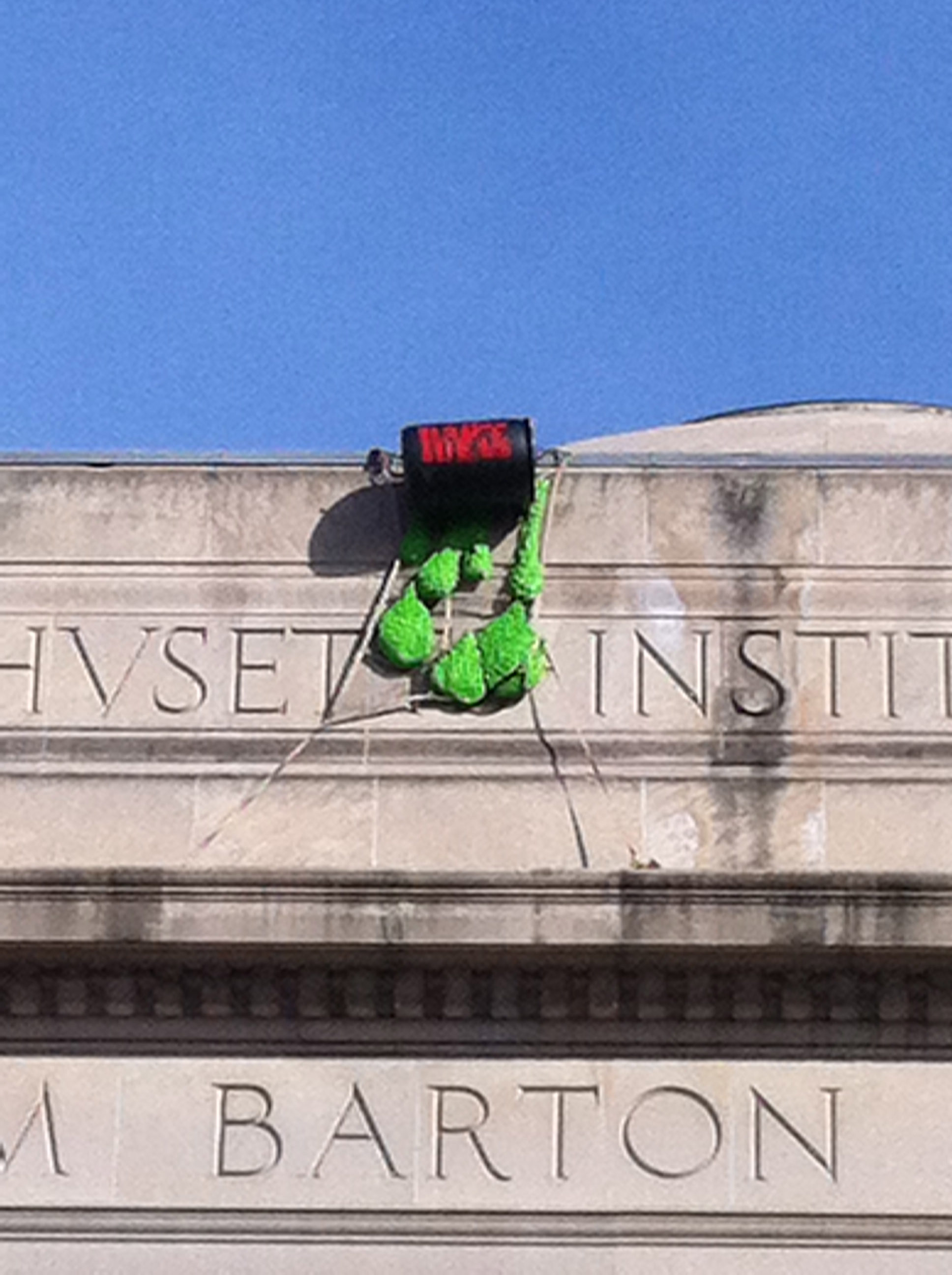 I'm not really sure what it is, but it definitely says Bad Ideas on it and it advertises Bad Ideas, so I approve.
East Campus has been buzzing and punting for the past few weeks in preparation for this weekend's events.  You can see the effects of the madness all over the courtyard and even in the basement.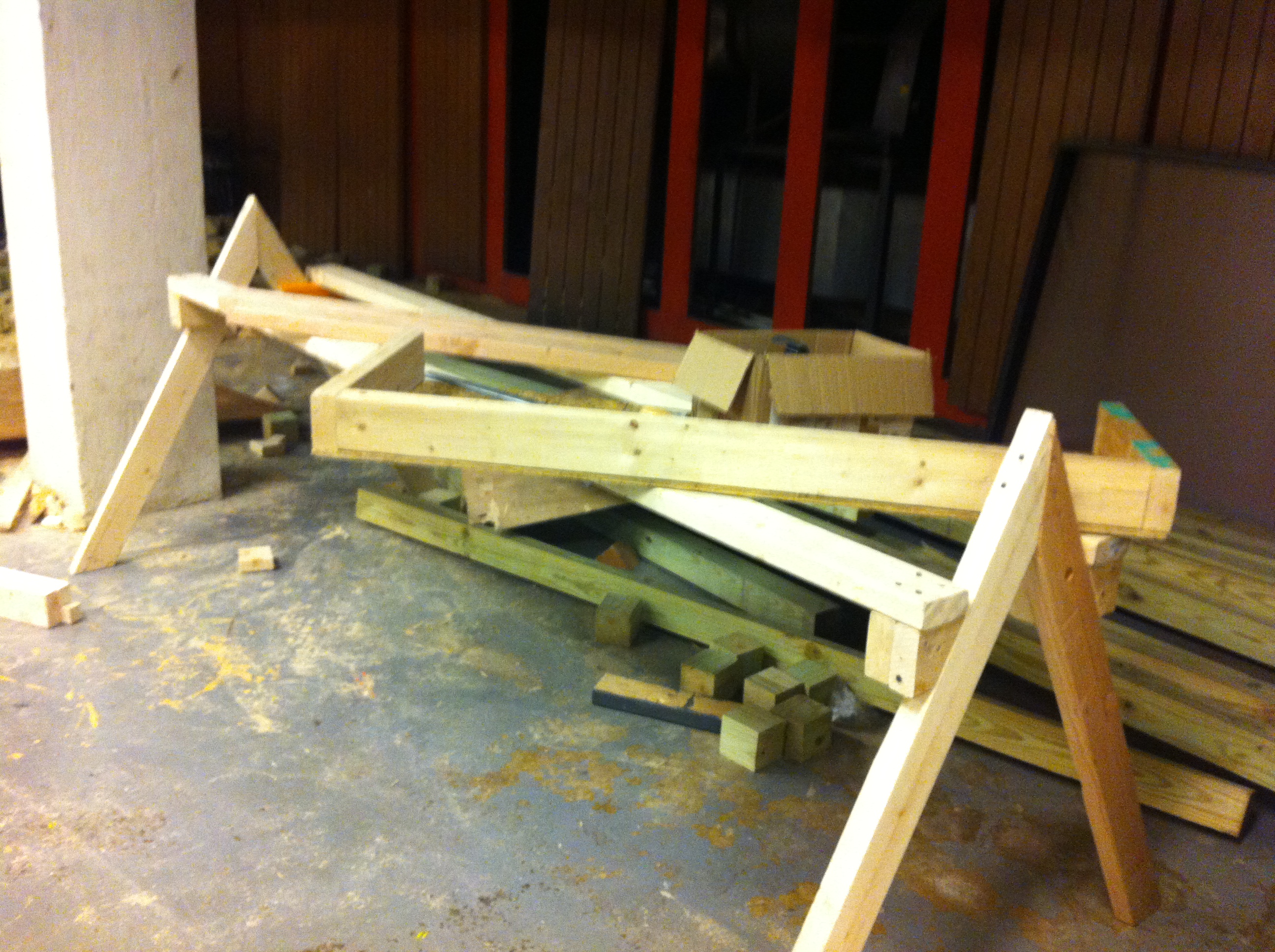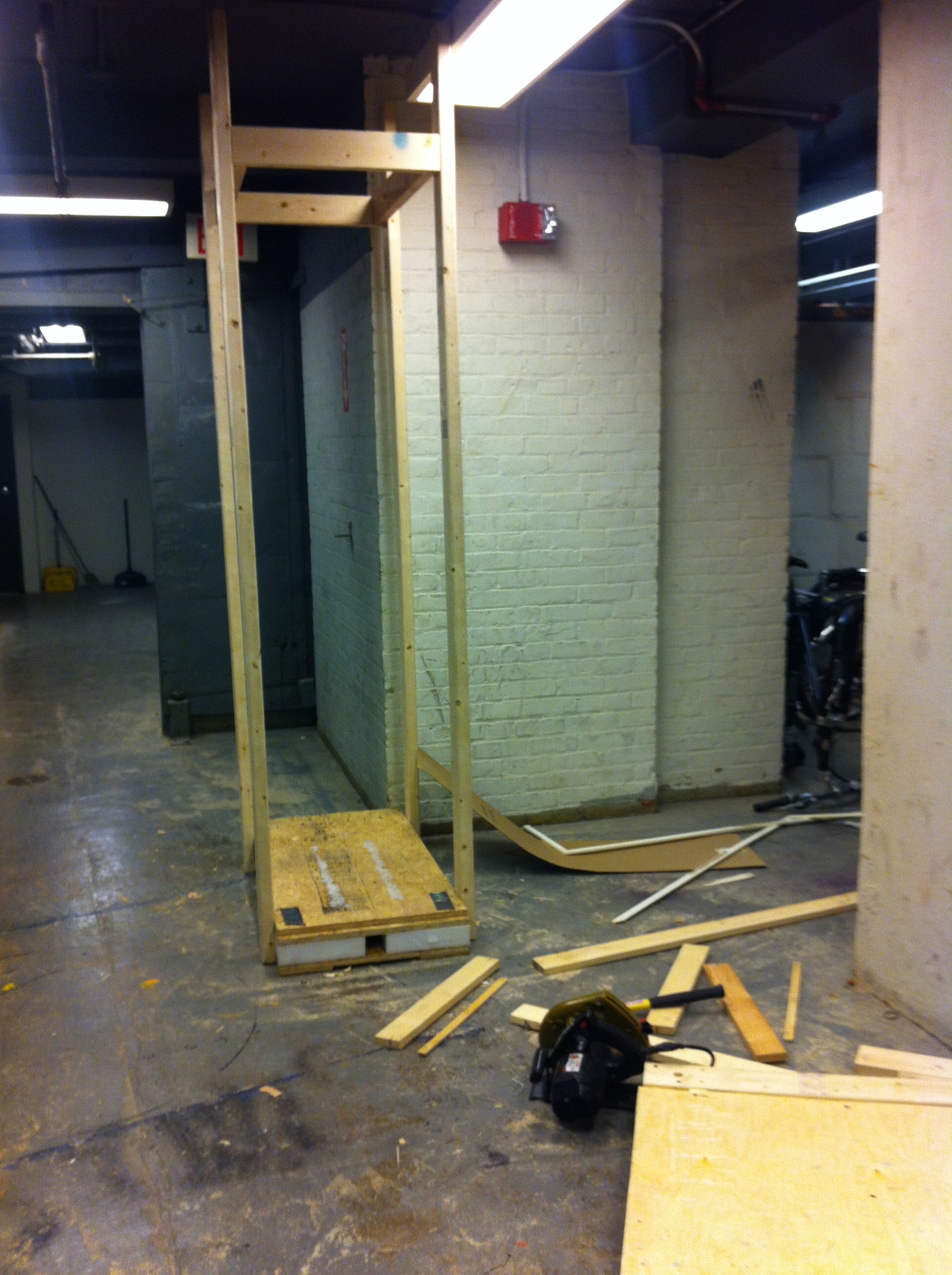 I quickly found that being a vegetarian during Bad Ideas Weekend is a bad idea.  Many of the events involved eating meat, like the Wing Eating kick-off event (See Kate R. '14's post), Taco Bell Eating competition, Exotic Meat event, and "How Many Feet Can You Eat" Subway eating event.  But I still found things to do, like observe the meat eaters preparing for their challenges and attend my first event of Bad Ideas, the Craigslist Scavenger Hunt.
My friend Ali F. '16 rented a zip car Friday night and six of us ventured off to find as many insane things as we could for free off of Craigslist in the Boston-Cambridge area.  We found a toilet and a ceiling fan, and quite an interesting decoration for hall.  We got lost in a snowy Boston and almost ended up at the airport, but we found our way back home eventually.  After two hours, the participants gathered all the things we had found from all over Boston in one giant reuse pile, and we admired our treasures.  There were chairs, televisions, cushions, books, and clothing.  I went through the pile and found a new friend.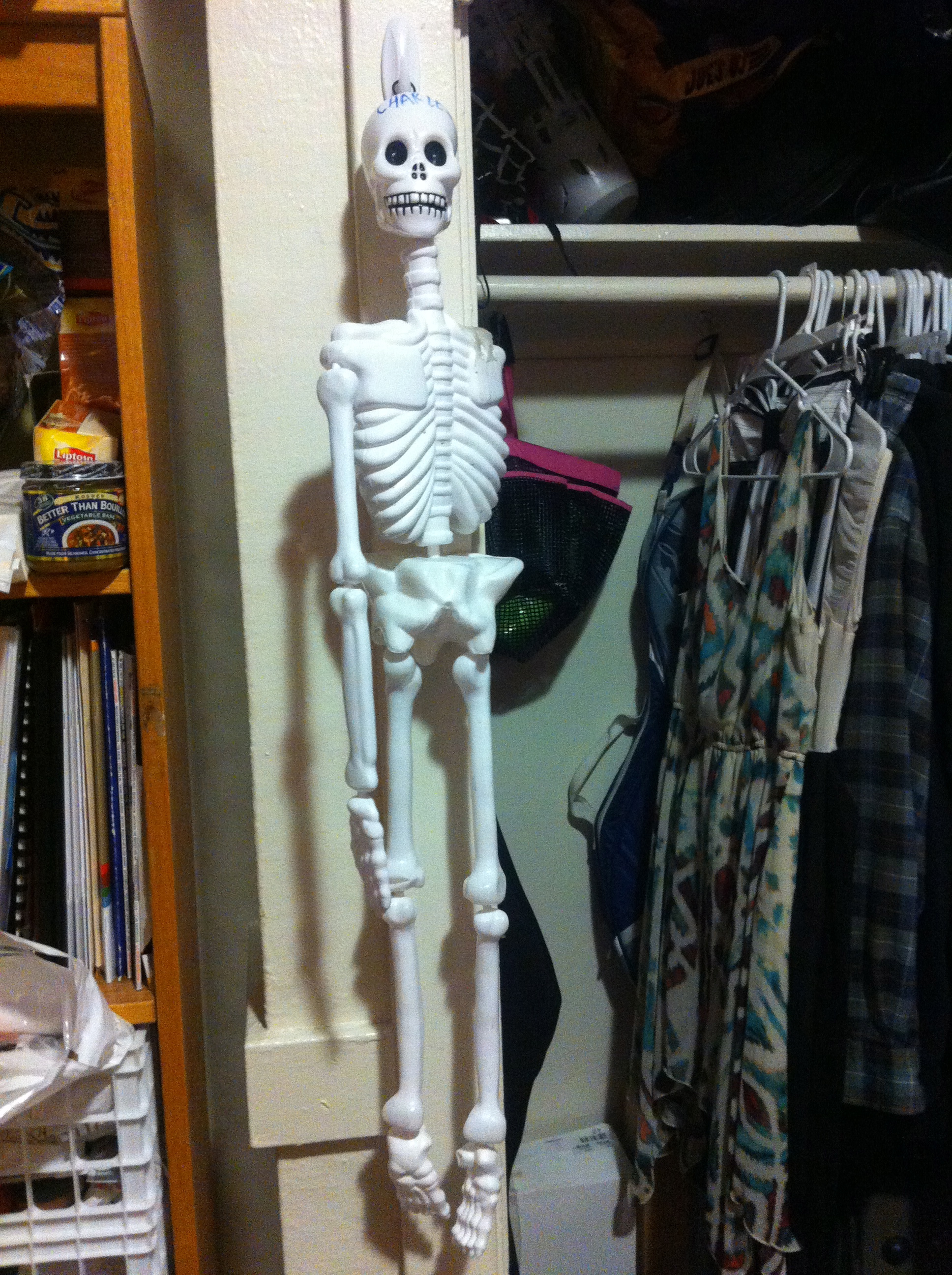 I named him Charles.  After a wonderful night, Ali and I made cookies for hall and I proceeded to study for my physics final Monday.
But then it was Saturday. And there was even more awesome.
Once again, my hall was obsessing over meat.  Last time, they were going crazy for bacon as certain people attempted to make soap out of bacon fat, but Saturday it was because Frobert M. '15 and Taylor A. '13  were making a mini version of MIT campus out of meat.
Yup, the East Campus Talbot Kitchen had over $400 of meat in it.  And their team worked away at making the best piece of meat art possible.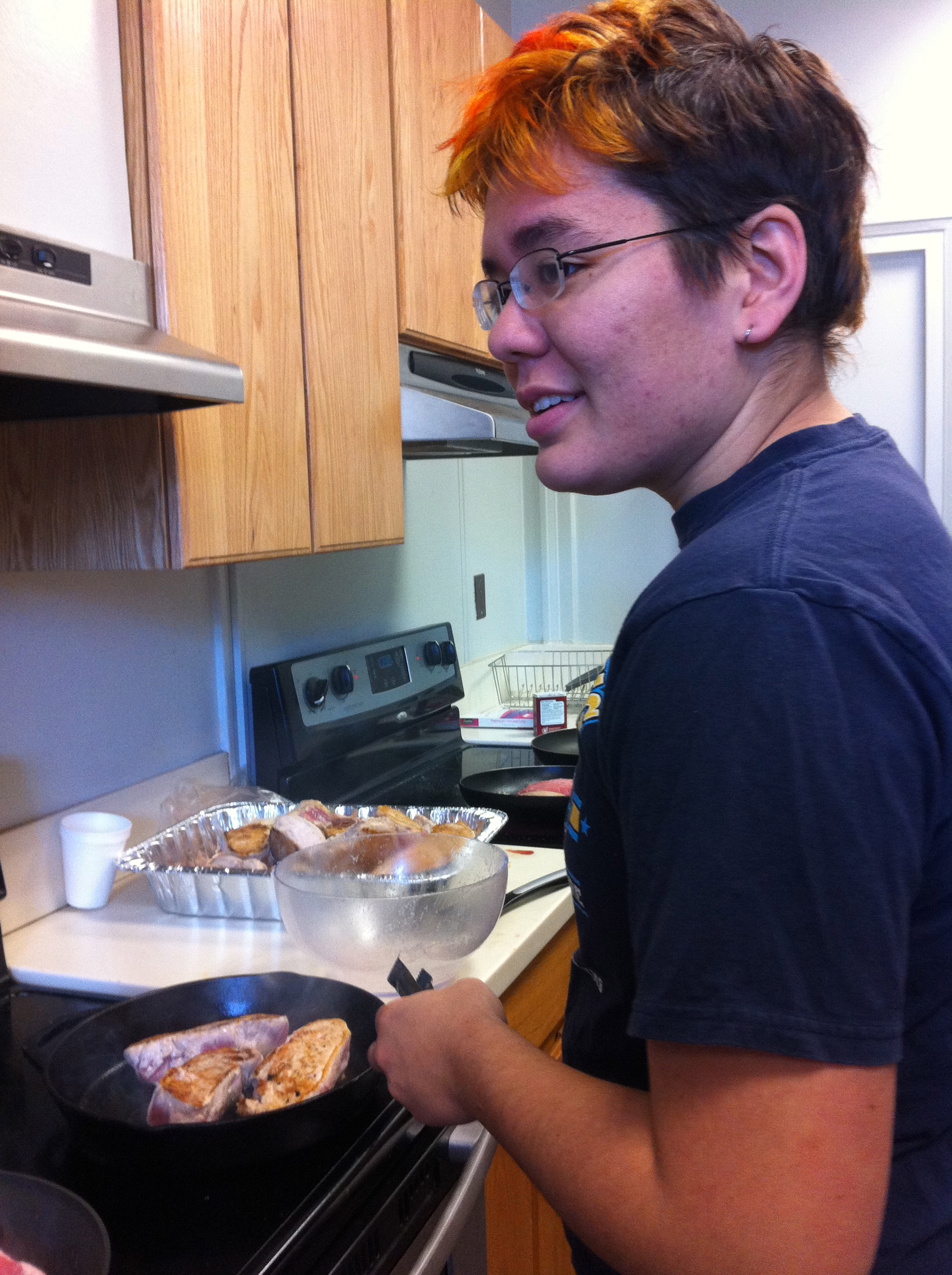 (Alyssa W. '16 helped in the kitchen with cooking pork)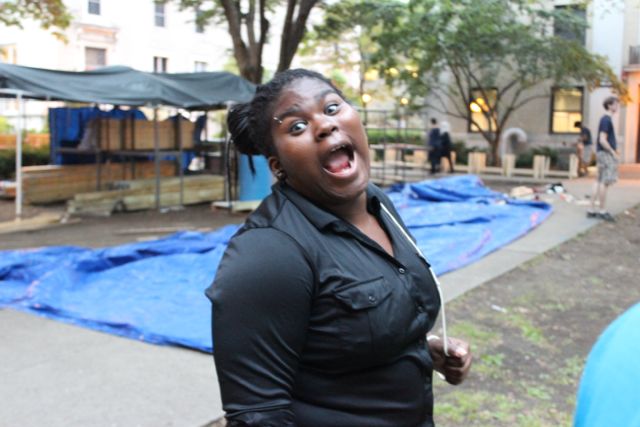 And there was so much meat :(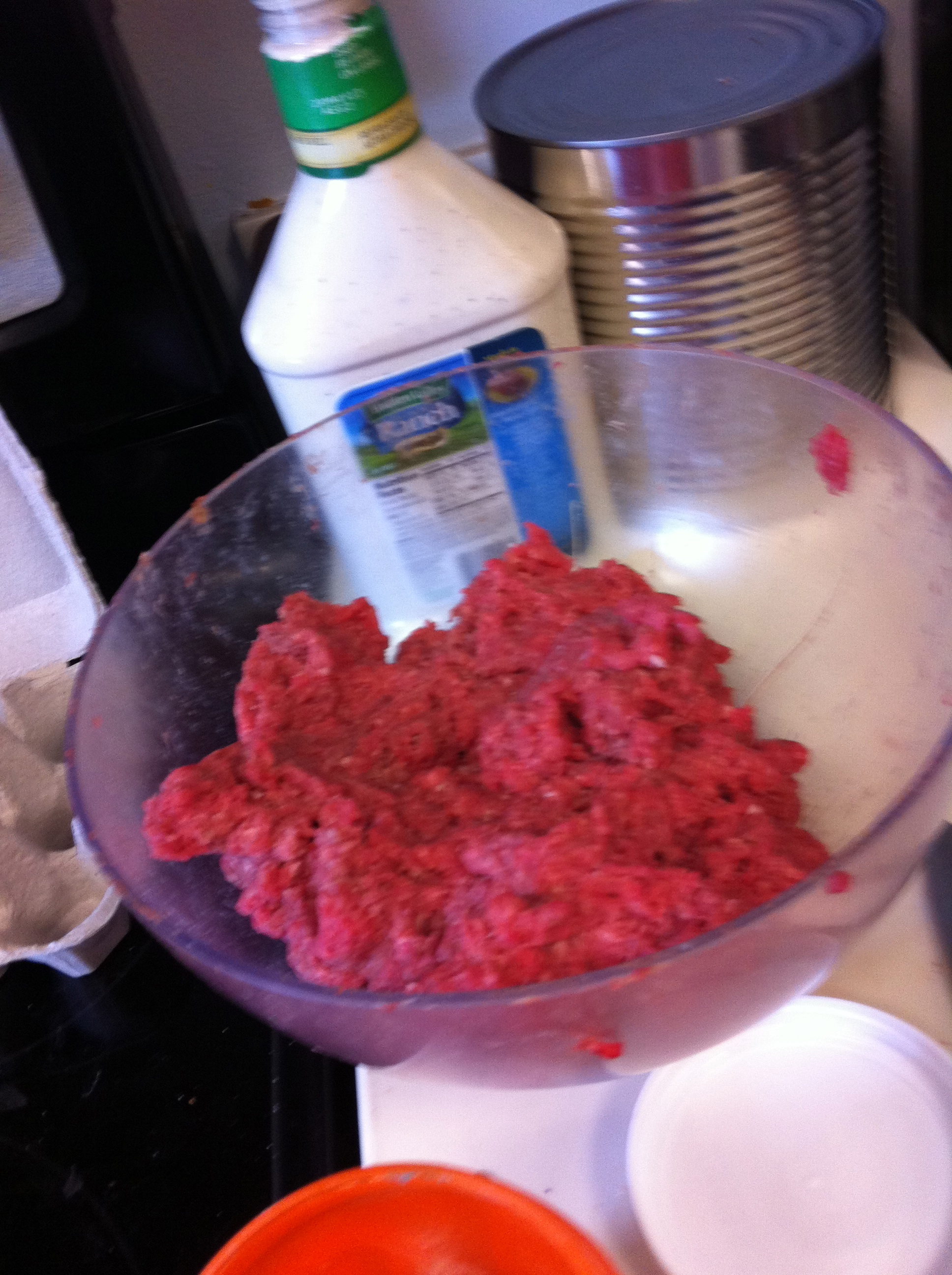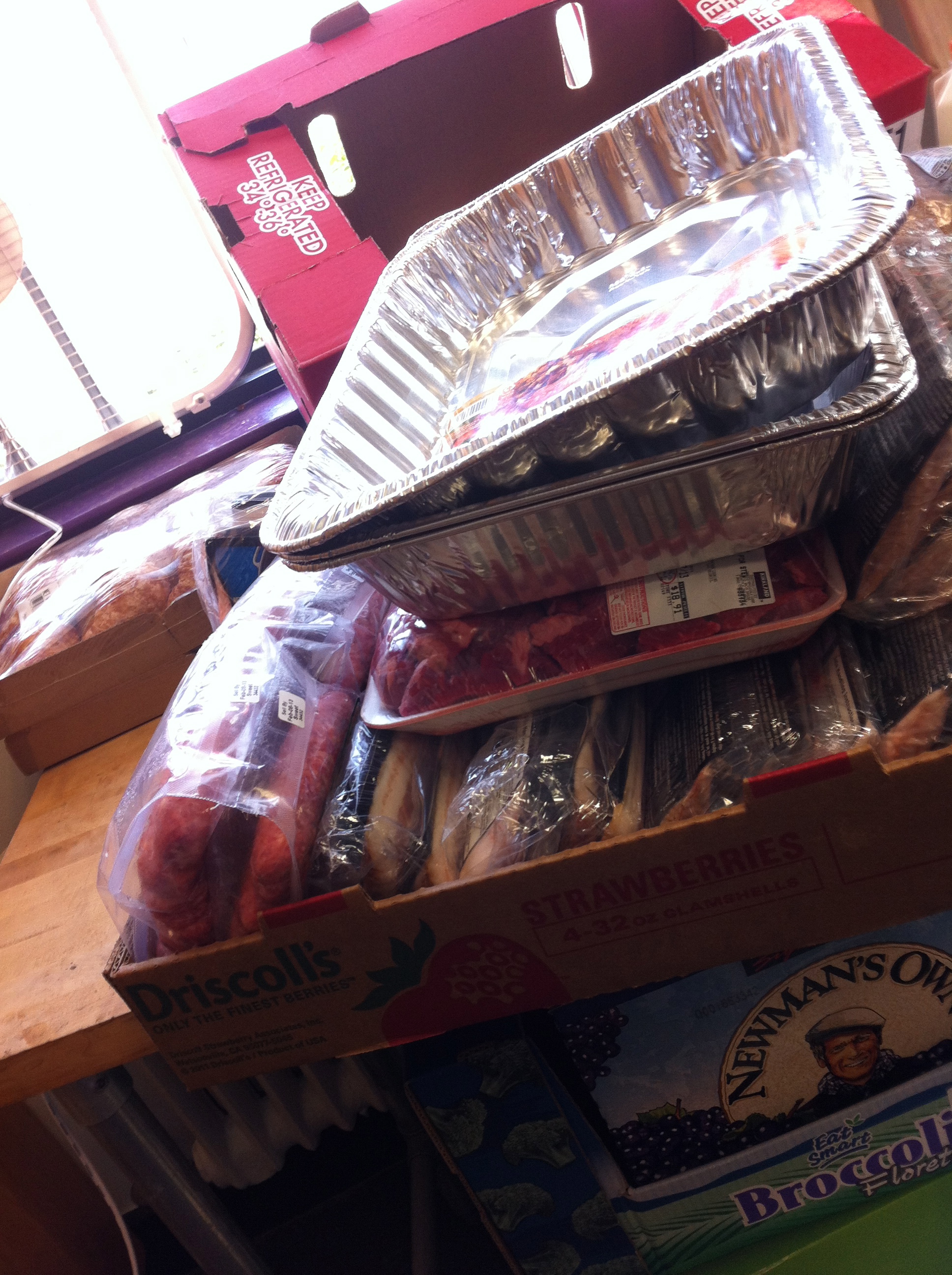 :(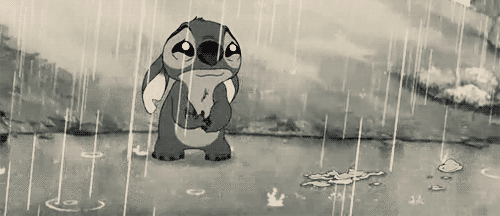 Even the mashed potatoes had bacon in them :(
But some my sadness quickly washed away as I stepped outside to find butter.  108 pounds of butter.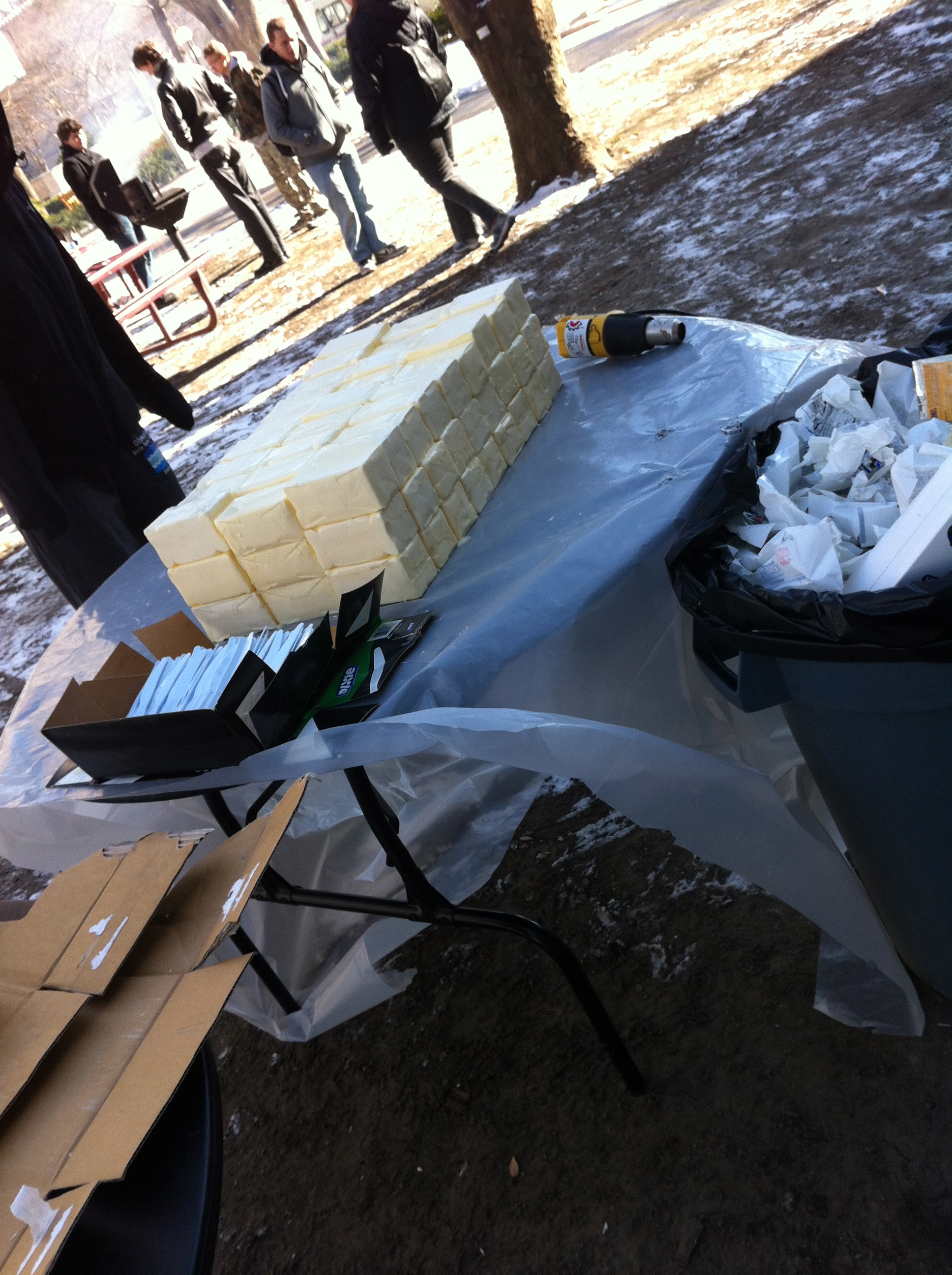 BUTTER SCULPTING!!! How could this be a bad idea? It seems like a dream you never knew you had, a wonderfully fun event for all.
Except that I quickly learned that I am not a butter sculpter.  It looked so easy in the lounge, where everyone was so carefully carving blocks and faces and buildings out of butter.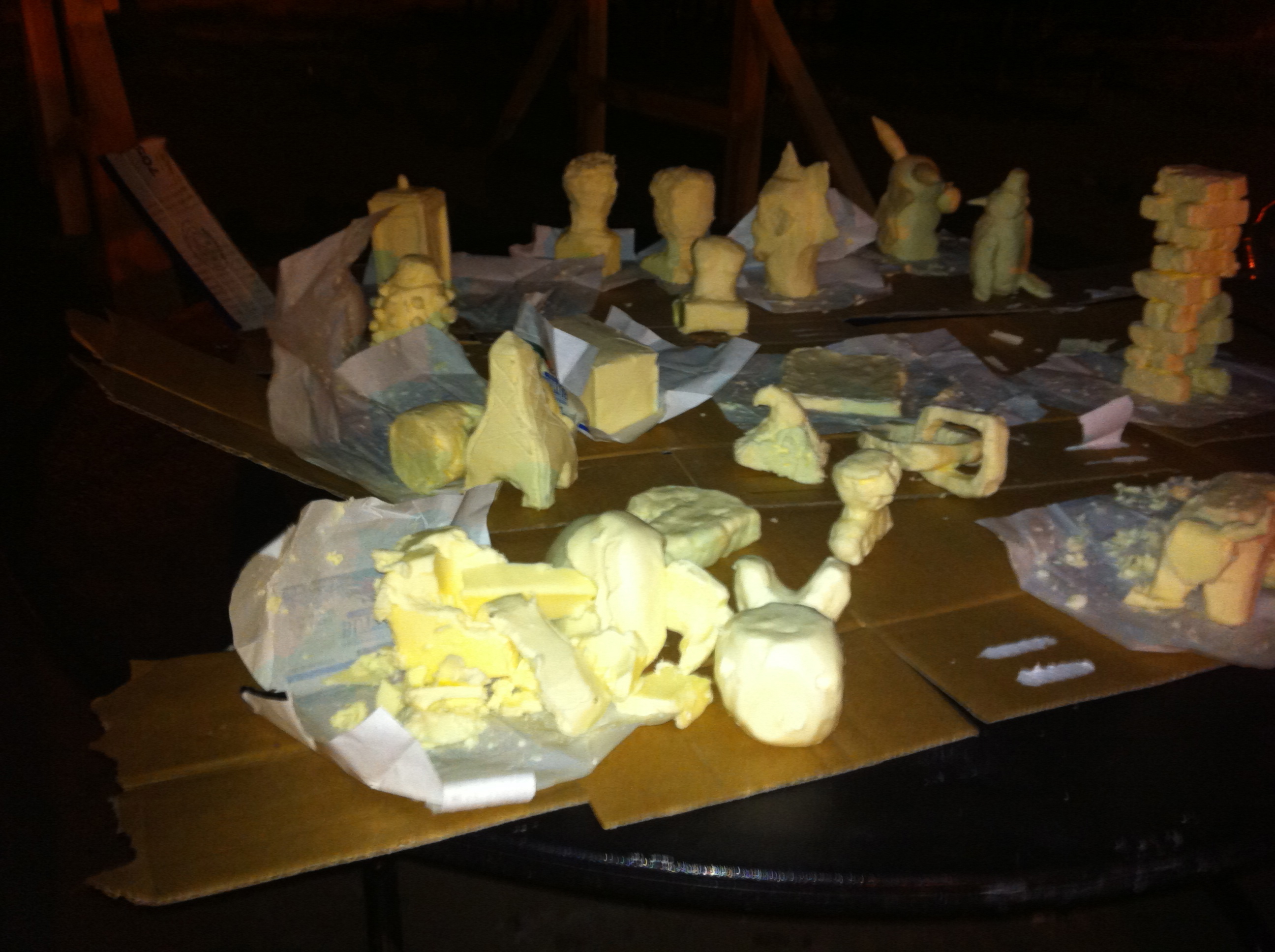 I tried to make a squanch, which is my hall's mascot, but as you can see, it ended terribly.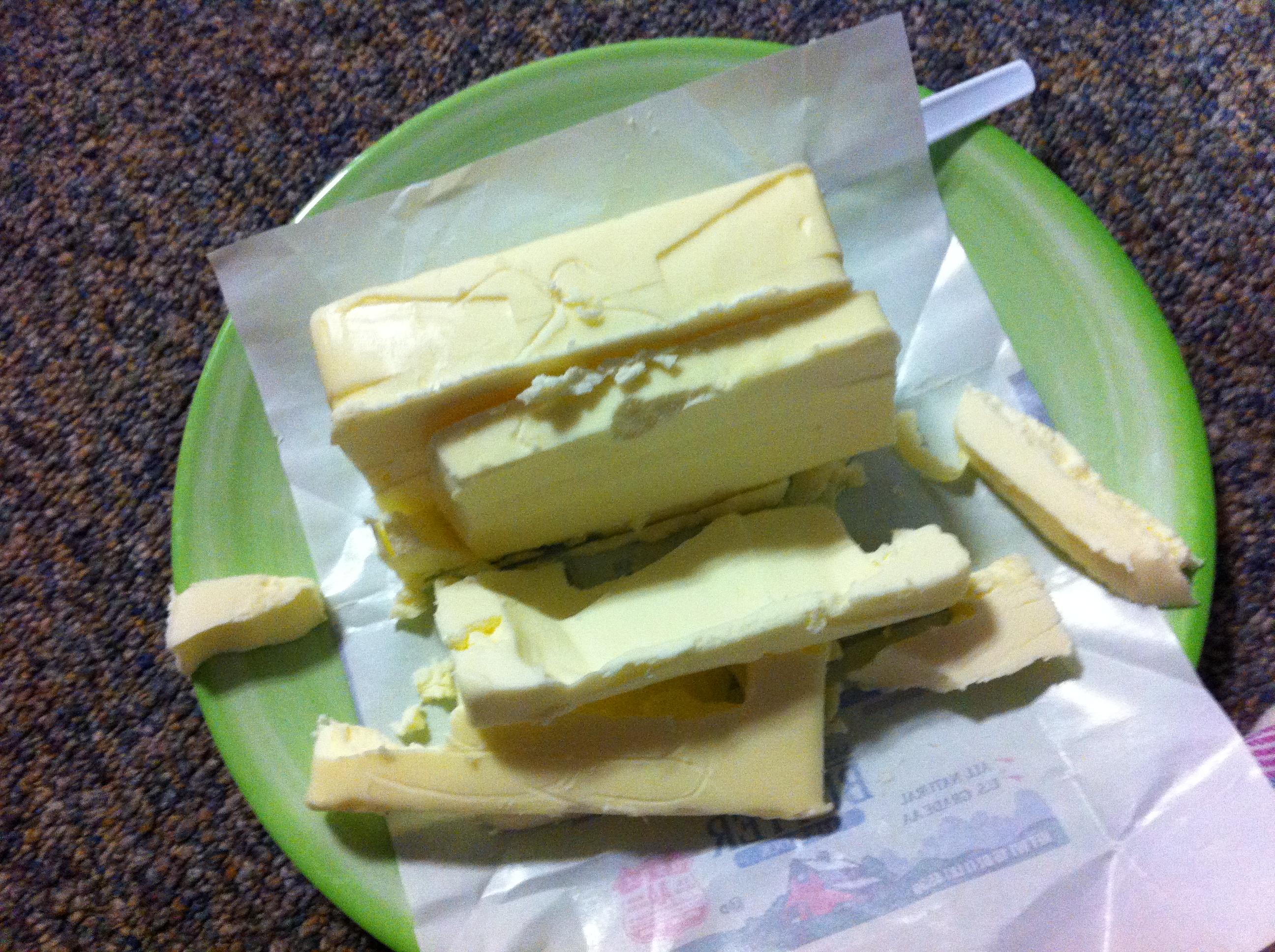 Still, I had fun.  This weekend was quite great, and it wasn't even near over yet!  Saturday night was the infamous Green Building Challenge, where students were challenged to run up the 19-story Green Building as many times as they could.  I couldn't participate in running this year because I broke my foot a couple months ago from running (stress fractures are mean!!) and I am still in the healing phase, but it was so exciting to see the challenge in action!  Also, I got to hand out inspirational flyers and bananas at the top of the building!!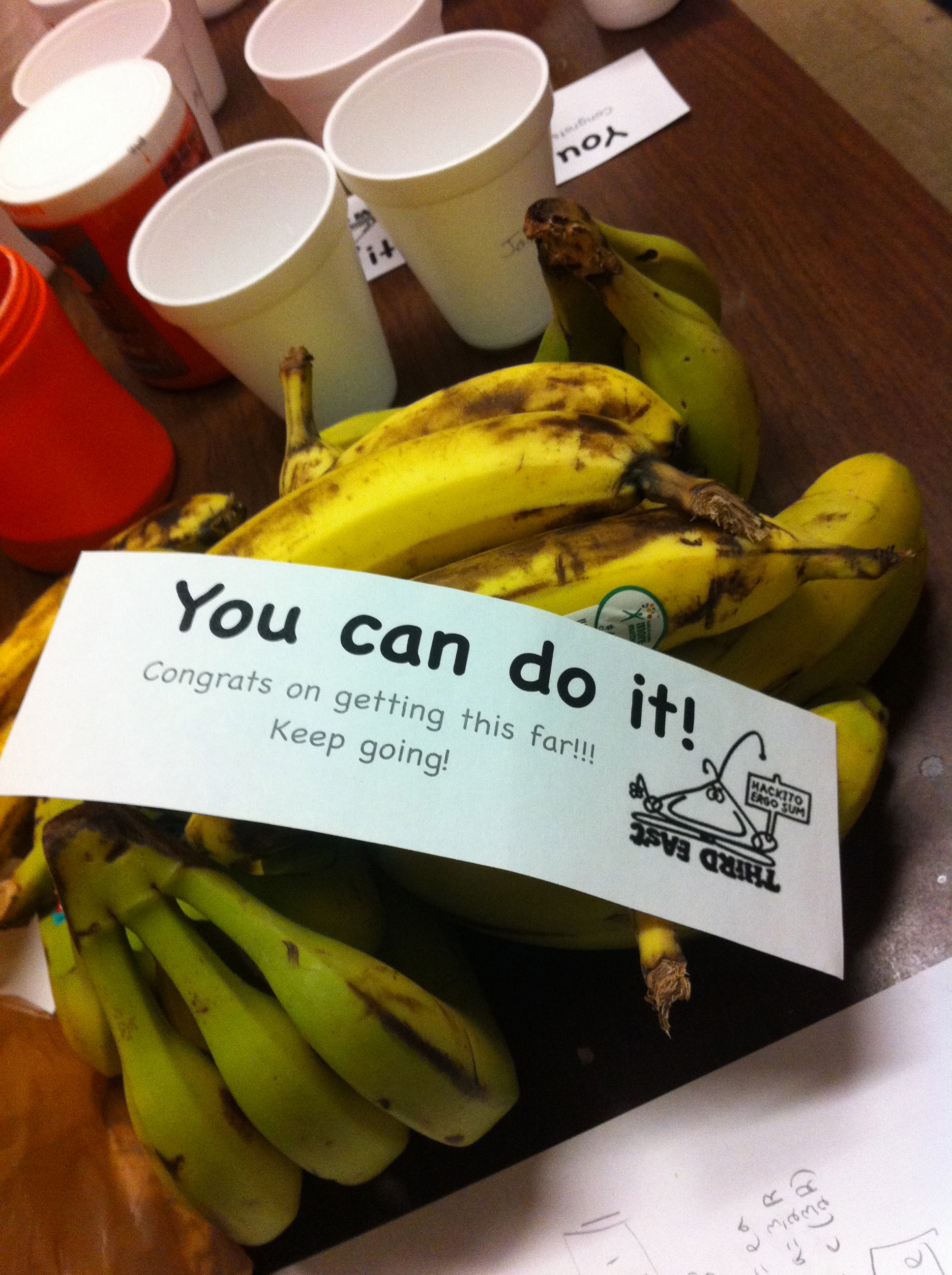 This has been a wonderful weekend, a necessary break for me during this very hosed physics-and-calculus-filled IAP.  It is a weekend before two finals and full of a lot of stress and chaos, but IAP is almost over and I can't wait for a new awesome semester.