This summer at nerd camp, I heard about a band called The Pipettes. I spent more time than necessary looking into the origins of their name and hoping its selection somehow involved science, since I pipette things all the time. As it turns out, the name is simply part of this 50s-British-girl-group kitschy image they're trying to pull off, which has nothing to do with science at all. I was crushed. (The feeling lasted about two seconds. Give me some credit, people – I'm not that big of a nerd, although I do occasionally go "OMG SCIENCE!" about things.)
I just shared that with you for two reasons, the first being that I already go to MIT; denying my nerdiness is futile, so I might as well be unabashedly proud of it. The second one involves what I do all this pipetting for: let's talk about my UROP! (You want some wine with that cheesy intro?)
Remember this Paint-classy picture of how far I walk every day?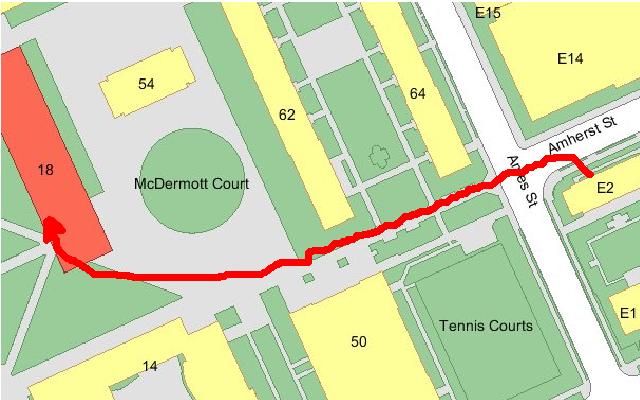 It still applies. (The fun part comes when I'm standing at the west parallel of EC, since I can see both my window at work and my window at home.)
Last September, I started a UROP in the O'Connor Lab. The lab's a part of the chemistry department; our research, however, is centered around the natural compounds produced by the periwinkle plant C. roseus, so a major part of what we do involves techniques in molecular biology as well as biochemistry and organic chemistry. I came across the lab's website last year when I was looking for a summer job, and the work they were doing sounded really interesting. Since Sarah O'Connor was one of my 5.12 professors at the time, I stayed after class one day and told her what I thought. I also asked for a job.
The exchange went exactly as awkwardly as it sounds. "Um, I don't actually have a question about lecture today, but I was looking at the webpage for your lab and what you guys do sounds really cool. Can I have a UROP?" It couldn't have been that bad, though – rather than immediately turn me down (which is what I thought would happen – it's hard to find a UROP if you start looking too late in the year), she asked me if I was okay with starting in the fall instead. I spent my summer at CTD instead and started working with a grad student at the start of the fall term.
Since last semester was my first experience with anything in a lab outside of the experiments in AP Bio, I spent most of the term learning basic lab techniques and playing around with bacteria. More than once a week, you could hear me swearing loudly at petri dishes I'd inoculated with mutant strains of E.coli – "Express my f***ing protein! EXPRESS! Don't make me have to do this again…"
This'll start happening again in the spring. (I'm sure everyone in the lab misses it.) My project this IAP, though, involves running kinetic reactions for twelve different analogs of one compound, secologanin, to find out whether any of these new substrates react more effectively with the enzyme strictosidine synthase (STS) than regular ol' secologanin. (I referenced Wikipedia! Twice! If this were a paper for a class, I'd be in hot water right now.) If you've ever taken samples while running kinetics before, you know that it essentially works like this:
A three-sample example of what I've spent the last two weeks doing at my UROP
0:00:00 – Start first reaction.
0:00:30 – Start second reaction.
0:01:00 – Start third reaction.
One hour and fifty-six minutes of downtime, during which I prepare LC-MS vials for the rest of the day, look for summer research programs my GPA is too low for me to be accepted into, and take care of the million emails I've received from people about Wild Party or prefrosh who want to know how to get into MIT
1:57:21 – Suddenly remember I'm supposed to take samples of the reactions at the two-hour mark. Wonder whether I've missed it. Panic, run to my bench, spin down samples, wait.
2:00:00 – Take sample from first reaction.
2:00:30 – Take sample from second reaction.
2:01:00 – Take sample from third reaction. Repeat at 3, 4, and 5 hours.
This is my last week working full-time, though – I'll be taking a three-unit neuroanatomy class (braaaaaiiinnns, yay!) for four hours every morning next week, and then spring semester will start. (Already?! Didn't IAP start around two seconds ago?) Next week is also prod week – known as "hell week" to anyone who has ever been involved in theater – for Wild Party, so I'll be swamped with producery things until we close on the 9th. If you're in the area, come see us! It'll be wild. Some might even call it a wild, wild, party.
It's almost 2:00:00, so that's all you'll get from me today. I'm about to show off my pipetting skills like nothing else.
18 responses to "Behold, a day job!"