It's finals week! That dreaded time of year when people hide away in their rooms and in the libraries and delve into deep bouts of sadness.  The cats are taking the hit from it the most – we've spent a lot of time using them for therapy and squishing them or putting them in funny places to make us feel better.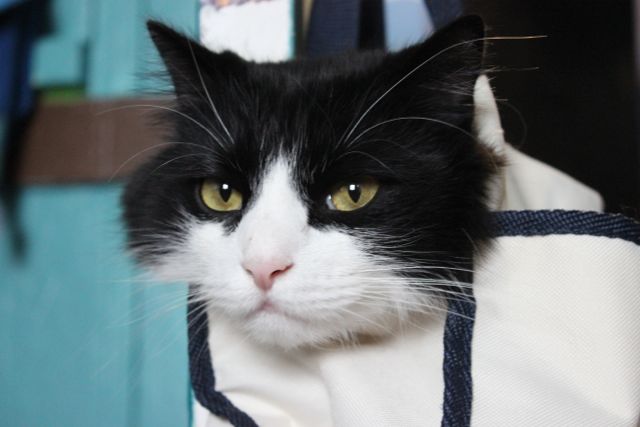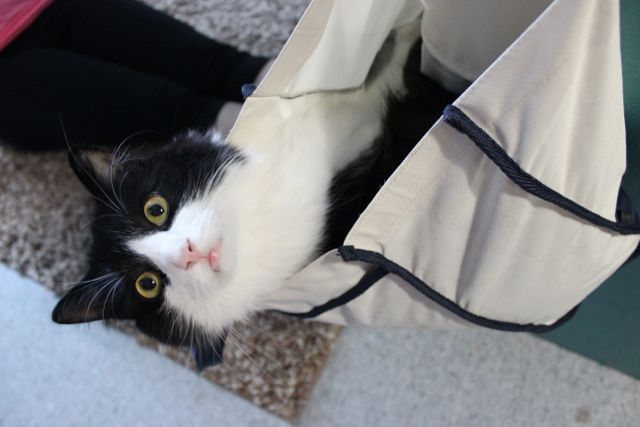 However, there are some nice things about finals week.  My hall has a lot of really awesome traditions, and the seniors started a new tradition this year. They made a "senior gift" for the underclassmen! They spent hours and hours and days making us a Tetazoo card game, and they gave us each a card with our name and super powers on it. My card gives me special Medlink powers, and my quote is "Let me go get my camera!"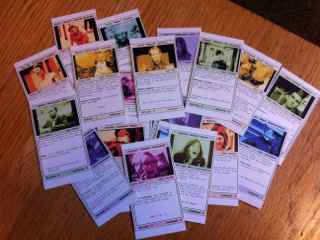 Every semester on the Sunday before finals week, my hall also has another tradition called "Cookies and Pooh."  We make cookies, serve milk, and read Winnie the Pooh. However, this year, we read Little Prince. So it became, "Cookies and Little Prince."  Some people insisted on reading their parts in French when it was their turn to read from the book as we passed it around. They say it sounds better in French – but I didn't understand a word of it. I guess it sounded pretty?
Another tradition is Finals Pasta! Each night of finals week starting on Sunday, a resident who doesn't have a final the next day makes a pasta dish (or another form of food that we still call pasta, like chili) for the whole hall. Kate R. '14 has been making us food the past couple days, and it has been wonderful. Yesterday she made chili, and tonight, we had Jambalaya! I'm going to make veggie lasagna on Wednesday.
We also have a finals board, which is the white board in our lounge where people put their name, room number, and the time they have to be up in the morning. Usually there is also a really important question on the board for residents to fill out (Favorite Tetazoo resident? Where did you hide the bodies? What is your favorite food?). The first person who wakes up (which is usually someone who was up the whole night) has the duty to wake up the next person who needs to be up, who then wakes up the next person who has to be up, and so on! And unless the person physically comes to the lounge to cross off their name, we keep knocking on their door. Nobody sleeps through finals here on Tetazoo (we'll hunt you down!).
Also, a really awesome thing that is done in all the dorms across campus is finals breakfast.  Each day, our wonderful GRTs and the fantastic baby Marie make us a really yummy breakfast with a different theme. Today we made breakfast burritos, and there are always little Juicy Juice boxes! I love Juicy Juice! I always claim that Juicy Juice is what gets me through finals in the end. Juicy Juice is very important. I love Juicy Juice.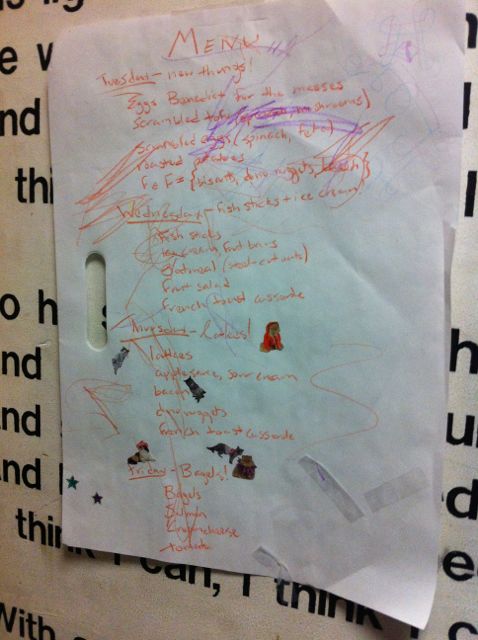 Additionally, Medlinks hand out finals breakfast every day in the Z center, which is the location of most finals.  We give out bagels and bananas, and it really helps those people who want a snack during their final or who didn't get a chance to catch finals breakfast at home.  This way, we can ensure that people are eating at least once a day.
MIT is really supportive during finals time. This is one of the most stressful times of the year, but we're getting through it. Together :)