You want to know the hardest part about this job? Entry titles. It's like impossible to think of some clever 4 word phrase to encapsulate your entire entry. But I got your attention, right?
So, as I reported in my last entry, my New Year's Eve plans included sitting in my living room and watching Season 2 of Veronica Mars on DVD with my sister while consuming large amounts of junk food. Well, that was the plan, and we did in fact make it through the four episodes we had left by then whilst consuming more junk food than is remotely healthy. However, we pushed our couch potato plans earlier in the day when we found out that my aunt was having something of a get-together.
It was just my aunt's family, a couple of her friends, and their kids (which turned out to be a surprising number of kids). Anyway, since there were no other "big kids" I pretended to be an actual adult for the night (I turn twenty next week. Yikes!). I ate way too much food and tried to tone down my age a bit by putting on one of the New Year's party hats that were decorated by the 6-year-olds.
Here I am, doing my best impersonation of an idiot (and trust me, there were other photos where I look even stupider):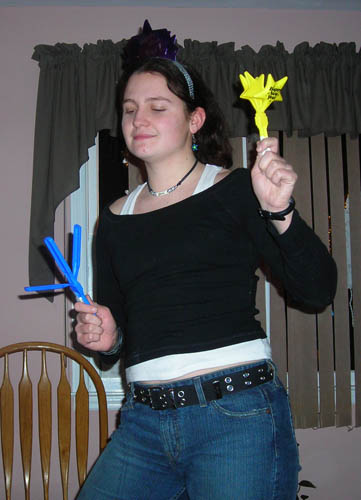 When the New Year came, I rattled my noisemaker so hard it broke and ran outside with my cousins to…make a lot of noise. That's when my oldest cousin whipped out the silly string he'd been hiding away for that moment and proceeded to spray me without abiding by the number one rule of silly string, which is: SHAKE WELL BEFORE USING.
This is what silly string looks like wet, i.e. not PROPERLY SHAKEN: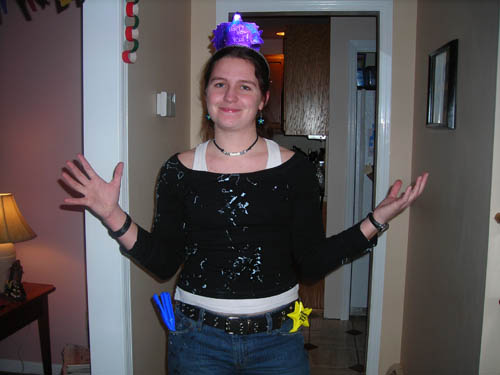 And that was my New Year's Eve.
My first adventure of the new year occurs tomorrow, when I get knocked out to have all four of my wisdom teeth ripped out. Yippee!
19 responses to "Funny pictures of me"