Just saying hello from the middle of my peaceful and relaxing vacation. =)
First of all, now that all of the early action nonsense is sorted out (and has been sorted out for quite awhile), I have a few messages for you prospective '10s.
Congratulations to those of you who were admitted! Exciting, isn't it? It's so exciting that I'm excited for you. I can't wait to meet you guys come CPW and next year if you decide to enroll. Don't be shy- send me an email. Say hi. Introduce yourself. I try my best but you wouldn't believe how hard it is to keep track of you guys between comments and collegeconfidential and all that. Well, maybe I'm just bad at it. But when I run into you during CPW, and you say, "Hi I'm so and so and I read and comment on your blog all the time," I want to be able to say to you what Ben said to me (which totally made my day): "Laura?! The Laura? Awesome!" and not "ummmm… who?" So do me and yourself a favor, and introduce yourself to me. I'm very friendly, promise.
To those of you who were rejected: that really bites, and I'm sorry for you. I have no profound words of wisdom for you, but I truly hope you're able to see the bigger picture and realize that it's not the end of the world. Really.
To those of you who were deferred: recently, everyone's been going crazy trying to figure out what they should do to supplement their application. In light of this, I'm going to tell you a story. Maybe this will give you a little inspiration as you work on supplementing your own applications.
Once upon a time and long ago…
…in mid-December of 2004, my friend Tetty (short for Antionette) was pretty stressed out. She had applied Early Decision to Cornell and was expecting a decision any day. A whole bunch of her friends (myself included) had applied early decision or early action to a lot of really awesome schools. So in order to both celebrate the coming holidays and to help us get our minds off of the wait, Tetty had us all over her house to make gingerbread houses. She said she'd be making the gingerbread and icing, but asked us each to bring over a bag of small candies that could be used for decorating.
The Friday before this fun adventure, Matt and Ben announced on their blogs that the decisions were in the mail. I knew I could expect to get it on Monday, which made my weekend a little anxious. We all arrived at Tetty's house on Saturday and started making the gingerbread houses. Everyone was doing great- except me. My mother had recently picked up an entire gingerbread house kit, so she gave it to me to bring. I had totally different pieces than everyone else thanks to this stupid kit, and the house I was making had walls that were supposed to slope outward. I don't know what kind of nonsense this was, but it was making my life very difficult. See, to make a gingerbread house, you cover a piece of cardboard with aluminum foil and use the icing to stick the pieces of gingerbread to the board and then to each other. Everyone was using tin cans to prop the pieces up while the icing dried, but nothing was working for me. I was miles behind everyone else and getting kind of frustrated.
So finally I said, "Tetty. Do you have any straws?" Tetty looked at me and said, "No you're not." She knew exactly where I was going with this. She went into the cabinet and returned with a box of straws. I said "thank you," and set to work propping up the gingerbread with straws. This was excessively difficult. If you ever try it yourself, you'll quickly come to realize that it's very difficult to put drinking straws under tensile stress. I finally finished and lo and behold…it actually worked. Katie (who found out she was deferred EA from MIT a few days later but ended up getting into Olin anyway, so it's ok) snapped a picture of yours truly posing in front of this ridiculous construction of gingerbread and straws while I explained to her (future civil engineer) that I really needed a few components in tensile stress but that straws are really only good for compression so I made do with what I had. Katie told me she'd email me the picture she just took, and we all decided that when I got deferred from MIT, I should send them this picture with an explanation. Then they wouldn't be able to deny how much I belonged there, since my extreme nerdiness leaked out even while making gingerbread houses.
Two days later I was shocked to find that I'd actually been admitted early action. There was no need to send in my gingerbread house picture, but the story lives on- so I could share it with you.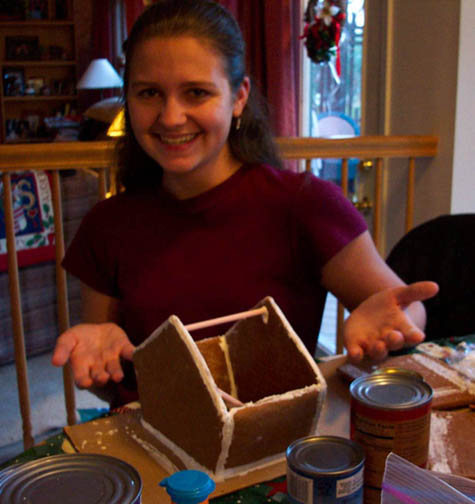 Response to comments:
janne:
Hi, cool blog. I'm a CS student from Finland and was wondering what's the deal with you being a member of the class of '09? But aren't you already studying at MIT? Or does it mean that you'll graduate in 2009? I'm probably just confused because our education systems are a bit different. :)
Yup, you got it- Class of '09 means I will graduate in '09. The Class of '06 are this year's seniors. Now I'm curious, how does the numbering work in Finland?
A few people from Brazil who have been commenting here lately: Do you speak Portugese?
Nope, but I do speak Spanish. Which isn't the same thing but pretty close.
Happy New Year everyone!!!
17 responses to "Just a little advice…"