DID YOU KNOW? Every IP address of the form 18.x.x.x belongs to MIT. Thus, MIT effectively has 1 / 256 of all the IP addresses in the world.
There are two parts to this entry.
Part the First: Our Students
So here's what's been going on in my life.
Yesterday in 6.002, somebody brought a rabbit to class. A rabbit. She brought a rabbit to a lecture about Thevenin equivalence. I actually thought it was just a rabbit-shaped handbag or something, and she was just petting its head because she was bored, but then Joey '08 drew attention to the fact that it was, in fact, moving, smelling, and walking around on the floor of 10-250. Okay. This was especially strange because I had heard a story the previous day about somebody bringing a cat into a modern music class to save time after a vet appointment and letting said cat jump on a piano, which actually turned into an apt demonstration of some modern music.
On Saturday the marching band headed over to the Men's Ice Hockey game for a little Marching Band on Ice action and watched the team continue on their 9-game-long undefeated streak with a waffle-stomping 7-2 victory. Perhaps because it was fan appreciation day (offering free ice cream and challenging engineering-themed games), the crowd was particularly boisterous at this weeks game, and I'm sure that our periodic interjections of "We Are The Engineers" and "The Liberty Bell (Theme From Monty Python)" only lifted their spirits. Hockey is actually a tremendously violent sport even at the MIT level; even from our vantage point twelve rows back in the stands, I was still deathly afraid of being liberated from solid food for the rest of my life by an errant puck. Yes, we did do a 7-member-strong half-time show, although there were no skates or color guard involved, which might have made it a little less impressive than it could have otherwise been. Still, our sousaphonist Ken managed to plug his way through the olympic fanfare and "Rubber Duckie," so I think he deserves some credit for the whole affair. And we got chased by the zamboni!
And did I mention that we painted the suite?
As the story goes, our floor is English House. Why? Oh ho. Many years ago, the cultural houses at MIT used to be in Burton-Conner, and Conner 2 was lucky enough to be home to Russian House. To help people learn Russian, they labeled most of the common household objects on the floor in Russian. When the cultural houses moved to New House and non-Russian speakers moved in, the new residents decided to dub themselves English House and decorate with myriad Union Jacks.
Continuing in this tradition, our suite is now…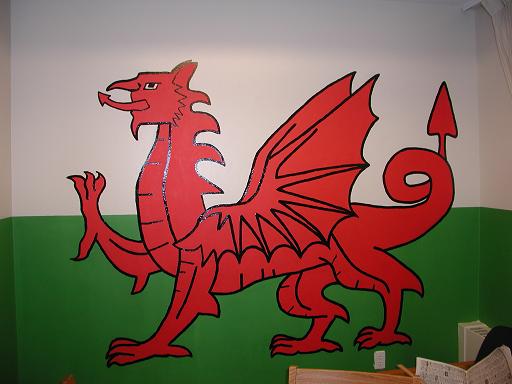 Welsh House.
Oh yeah.
Alice '09, the paintrix, has decided to name the dragon "Angelina," because it is both hot and kind of scary.
Part the Second: Their Stories
I have gone back through the last two entries and answered some of your more specific comments. Here are the answers to some of the more general ones that might get asked again:
Kate wrote, "I'm coming to visit MIT as a congratulatory gift from my dad! Any specific date you think sounds good? In this, my trusted ally you are."
Well, Kate, I'm not exactly sure when you live, so the answer really depends on how many times you think you are going to visit MIT. In general, the objectively best time to come visit MIT is Campus Preview Weekend (CPW), but technically you have to wait until you're an admitted student to do that. It's totally great. There are carnivals and balloons and taekwondoists and good weather and people are smiling. If you were to come as a junior, you'll still be able to see all these balloons and taekwondoists and smiles, but you probably won't be able to participate in any of the official activities and you won't get an official host and Mike's pastries and free money and whatever else the admissions office throws at admitted students during CPW.
MORAL OF THE ENTRY: Don't just show up to CPW just because Sam told you it was okay. In fact, don't do anything just because Sam told you it was okay
If you want to see what MIT is really like, though, I'd wait until the weather is at least a little warmer–after a surprisingly mild winter, we're a little bit in the middle of a cold snap here. When it's warmer, your host will be more likely to take you out into Boston to show you what the city has to offer, which is really an integral part of the MIT experience. Stay away from the last week of March, because that's spring break. I'd say middle of March to early April would probably be the best time–there's always so much going on that it's not like there's one absolute best weekend to be here.
Alan wrote in response to Dan: "They (the powers that be) talk a lot about how little SAT scores figure into their decisions relative to other factors, so you should be more concerned with doing things involving grades and research and what-not. Even so, take the SAT again (
14 responses to "Our students, their stories."