This IAP I took Italian I, and it was basically awesome.
You might be wondering about MIT's language department, considering that….it's MIT, and languages don't involve math and all. First of all, I can reassure you that MIT does have humanities classes, and a lot of them are pretty awesome. In fact, MIT has one of the best political science programs around. For example.
But this entry is about languages. Unfortunately, MIT's selection is pretty limited, but the classes are still great. (We only offer Chinese, ESL, French, German, Japanese, Spanish, and only one level of Italian is offered, and only over IAP.)
The very first humanities course I took here my first semester was 21F.716, Introduction to Contemporary Hispanic Literature. We read a different book each week (Bodas de Sangre, La Nada Cotidiana, La Plaza del Diamante, El Beso de la Mujer Arana, and a few others) and discussed them. As you might have figured out, the class was held entirely in Spanish, so it was pretty advanced, but I enjoyed it a lot.
Knowing Spanish has made learning Italian both easier and more difficult at the same time. It's easier because Romance languages have a lot of similarities, so I'm already used to conjugating verbs and making nouns and adjectives agree in number and gender. Plus, Italian and Spanish are even more similar than almost any other pair of Romance languages. There are words which are identical except for the spelling, conjugations which differ only slightly, and very similar idiomatic expressions. At the same time, this makes it difficult: because a lot of things are so close to each other that I often forget which is which. A perfect example: the word "and" in Spanish is "y" (pronounced like a long E), while the word "and" in Italian is "e" (pronounced like a long A). You can imagine that I mix these two up quite a lot. Throw in de/di, se/si, and so on, and you can see how this might get annoying.
But, the class was still awesome, and I will hopefully be using my knowledge when I visit Rome for 2 days this spring. Or, maybe I should say, hopefully I learned enough to get around Rome for 2 days this spring….
Anyway, like all good language courses, there is a listening component. And like all introductory language courses, there's that awful video series of 2 people (one male, one female) traveling around the country where the language originated making overly dramatic but grammatically simple statements. But we didn't use these materials in class- they were part of our homework assignments. So how did we access them?
The LLARC- the Language Learning and Resource Center is a familiar place to all who study language at MIT.
Right outside the LLARC there's a lounge, which is obviously cool because it has laser discs on the walls. I mean, come on. That's awesome. Also, there's a television which is always set to some foreign language channel or another.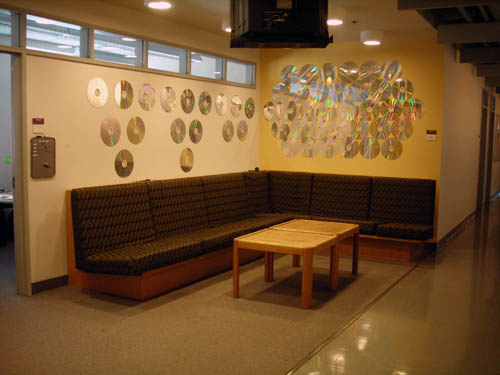 The LLARC has audio tapes for all of the various language textbooks used at MIT: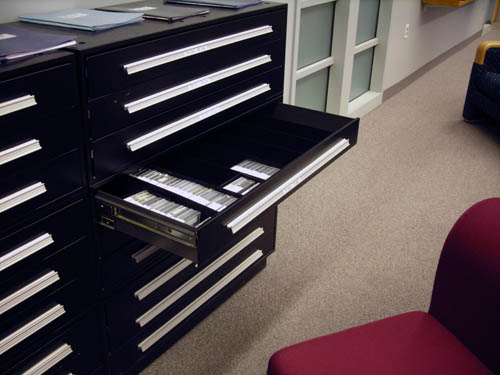 And individual tape recorders you can use to listen to them. Here's what it looked like when I was doing Italian listening assignments: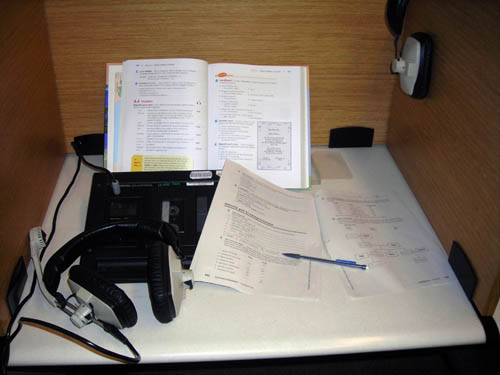 There are also video monitors and computer stations for watching videos and doing computer based learning activities, and the walls are decorated with foreign film posters. There are also a couple of conference rooms which you can use to watch a foreign language film with some friends, or your whole class.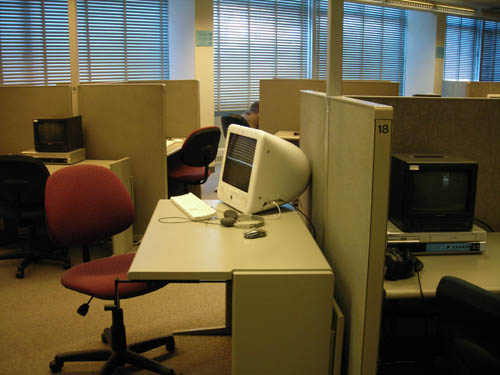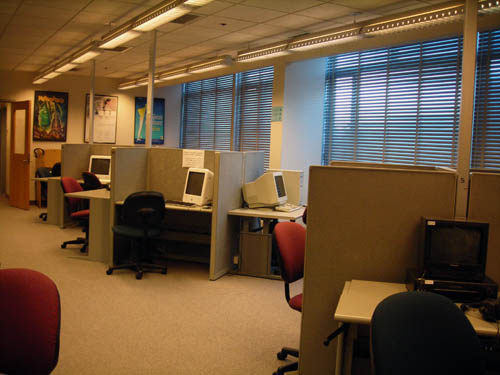 The textbook videos, along with a whole selection of other materials in each of the languages offerred, can be checked out from the front desk: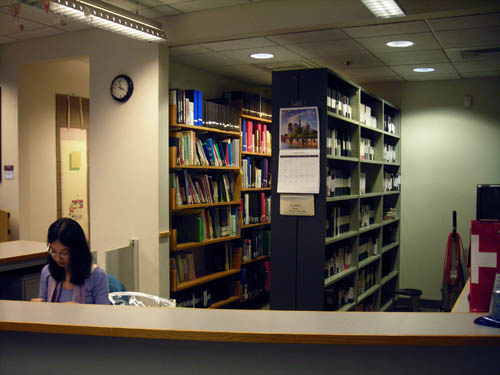 Plus, French comics!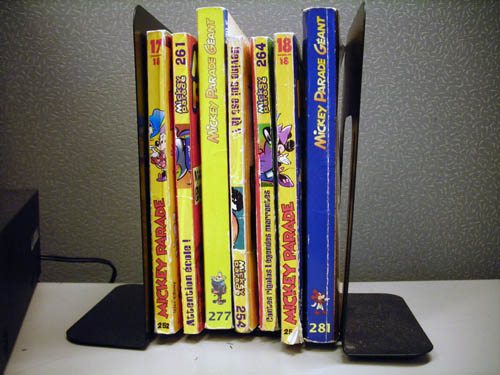 Learning language through media is pretty awesome. Every day in Italian class, our professor would show us another Italian music video, and we would challenge ourselves to see how many words we recognized in each one. Then she'd hand out the lyrics and we'd go over them together, learning to translate the whole thing. Once we even watched a commercial for coca cola (which was hilarious), and a scene from 90210 which had been dubbed into Italian.
But by far the most awesome and class favorite video was Lunapop's 50 Special. It's about a guy who wants a Vespa. It's amazing. Watch it once, and you'll be hooked. Promise. I mean, it's Italian pop music! What's not to love?
Who ever knew YouTube would be such a great learning tool? (Don't tell Snively. He'd never see the sun again.)
Plus, completely not related: This is totally going to start up a huge gender/affirmative action war, but dude. Hilarious.
26 responses to "Parliamo Italiano!"