Despite what I said last time, I did manage to snap a couple of pictures of CPW, so here they are: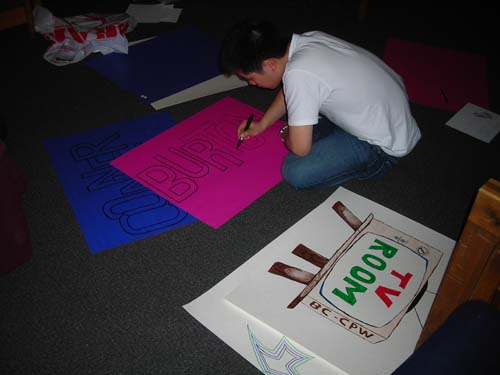 Mason '10 (yes, that Mason, from the facebook group you all know and love) helps me make signs for the dorm. Go Mason!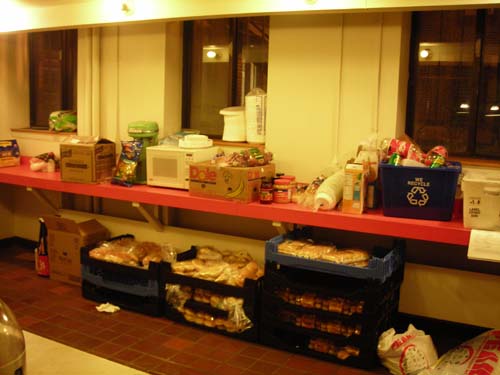 The Snack Bar, where we kept the thousand-plus dollars worth of food all weekend.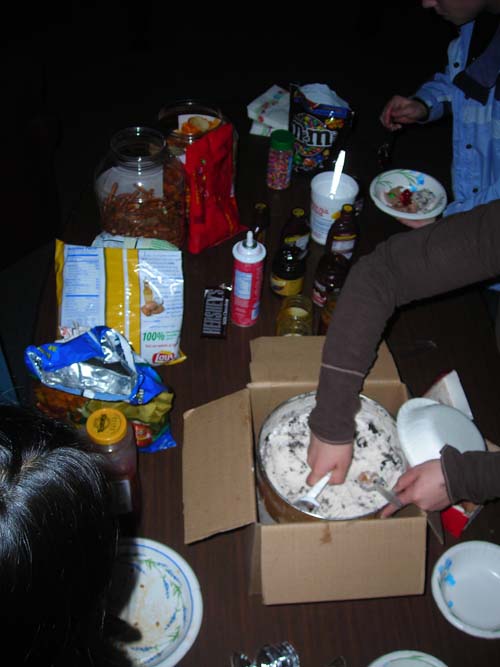 There was a mix-up with our food order- we were supposed to get 15 gallons of ice cream on Thursday morning that never showed up- so the ice cream we bought at the supermarket, which was only supposed to supplement the rest of it. We had to run out in the middle of the event to buy more. The rest of the ice cream finally arrived. There was a lot of it. =)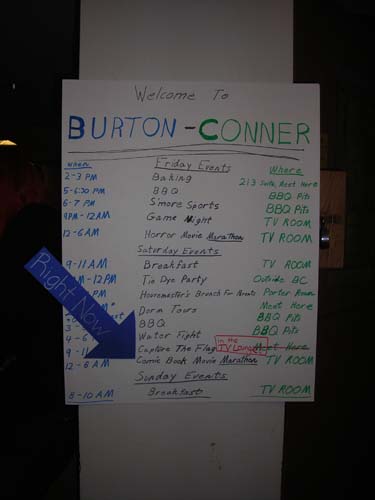 This schedule was on the wall near the front entrance of Burton Conner. I'm disproportionately proud of that arrow. I think it's so cool.
When we were trying to cram all of our food into the various fridges in the snack room, we found that one of them wasn't turned on. The house manager, Ken, noticed this and sent someone to fix it. (The house manager is in charge of dorm maintanence.) He told us the fridge was working again, so when we finally got our full food order, which included all kinds of breakfast foods, we decided to use it to keep the breakfast drinks cool. I opened the fridge in the middle of the night to grab something and did a double take. "Why does the milk look so funny?" I thought. It was literally less than a day old, it couldn't have gone bad yet, so why did it look so…yellow? It turns out that when the fridge had been turned on, it had been turned all the way up to freezing.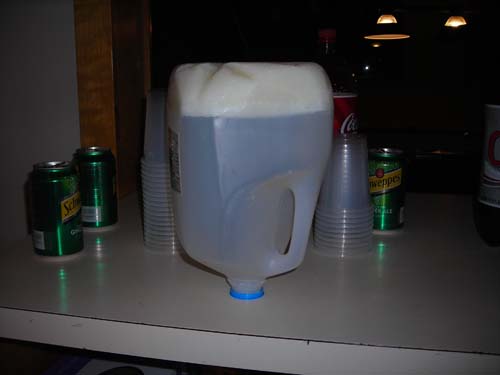 We unplugged it and let everything defrost, but some of you were lucky enough to get frozen milk chips in your cereal the next morning. =)
In other news, my floor went on an overnight trip the weekend before CPW, and it was beyond awesome. No, seriously. See, Burton Conner has something called IFAF- InterFloor Activities Fund. Basically, to promote dorm unity, if you bring a certain number of people from different floors with you on any kind of trip, the dorm will pay for it (or at least subsidize the cost.) My GRT (grad student RA, basically, for those of you unfamiliar with the term) is a really active member of MITOC- the MIT Outing Club, which owns a cabin in New Hampshire. So, after what was quite possibly the most stressful week of my life, my floormates and I packed our bags and headed up to New Hampshire for a completely free weekend away from the Institute.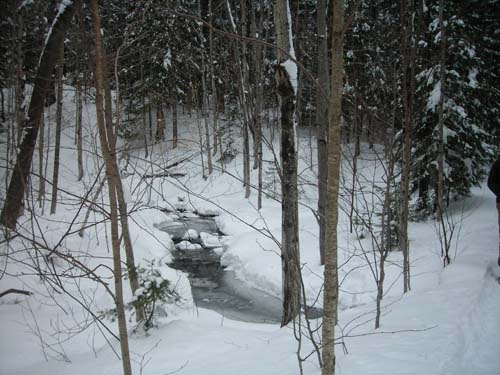 The beautiful scenery leading to the cabin. (We got there when it was dark and had to trek down some path of unknown length with flashlights. It was kind of crazy.)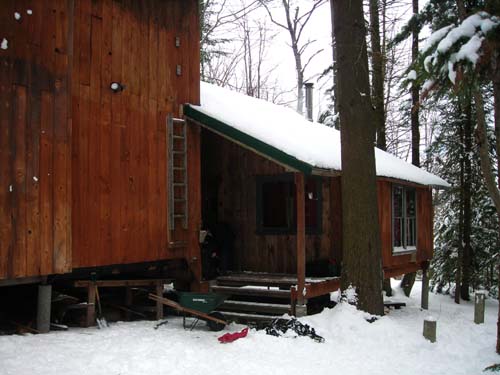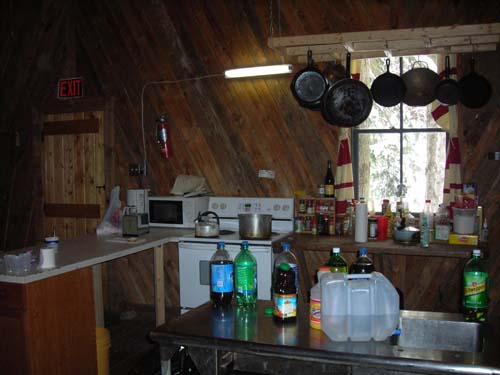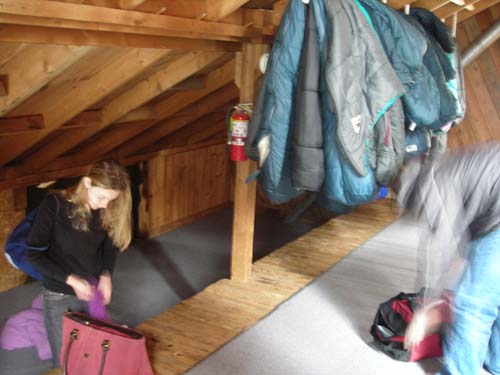 The above are pictures of the cabin's kitchen and loft, where everyone sleeps. There's also a lounge area downstairs, where we sat around and played games and ate junk food. Mmm, cookies.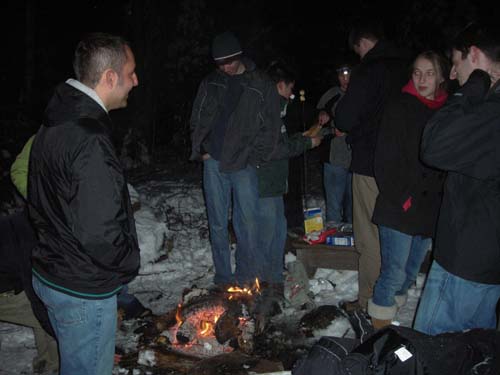 Yum, smores.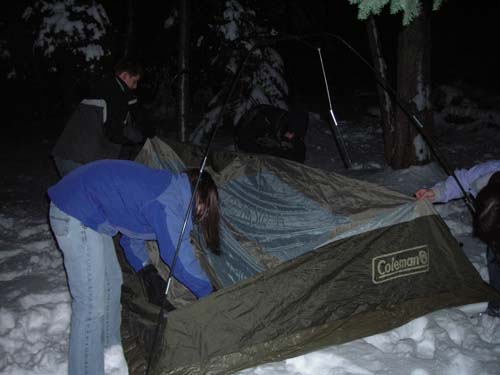 Despite the fact that there was more than enough sleeping space for everyone in the loft, a few members of the group decided to be hardcore and sleep outside in the snow.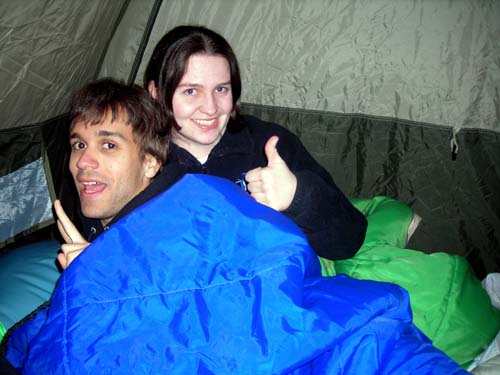 Sam
and I were among them.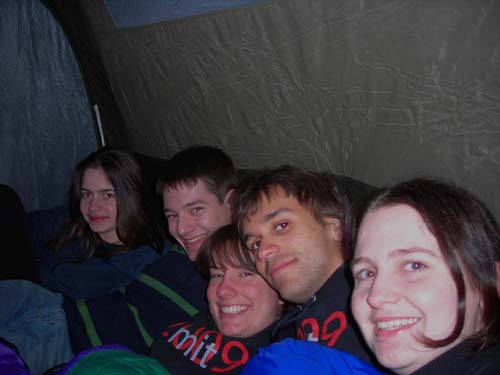 And here's the rest of the crew. I'm insanely proud of this picture, because I told everyone to gather in and then held my camera out at an angle in an attempt to take a picture of all of us without looking. This was what I got on my
first try
. How awesome is that? From left to right are Diana '08, Rick '09, Adelaide '09 (comments on the blogs as "Dizzle," because Sam makes weird nicknames for people),
Sam '07
, and me.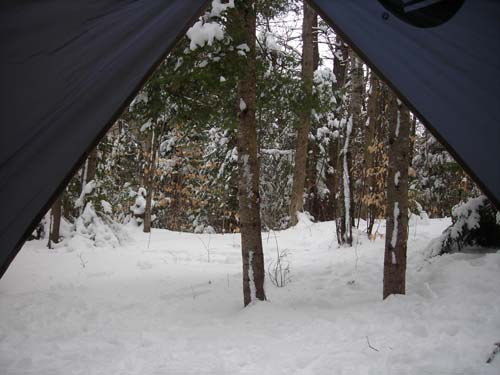 The view from the tent door when we woke up in the morning.
After waking up, we had some breakfast, cleaned up the cabin, and then made our way out to a natural ice formation called "the Flume" nearby. We hiked around the area and engaged in all sorts of fun, wintery activities. The snow was amazing. I'm a summer girl at heart, and I only put up with winter because of the snow, and the possibility of things like snowboarding, which I love. But I haven't been this year, and the "snow" we got on campus was just not snow. It was slushy gross wet stuff that pretended to be snow. But out in New Hampshire, this was the beautiful stuff. Perfect for things like…snowball fights.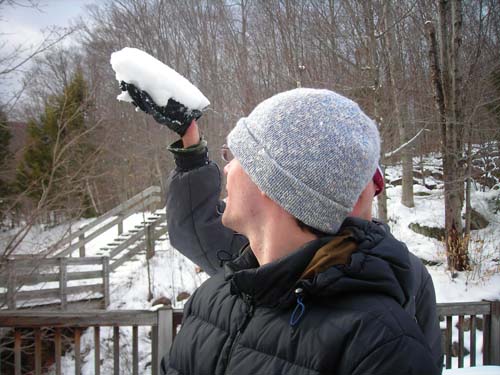 I love this picture.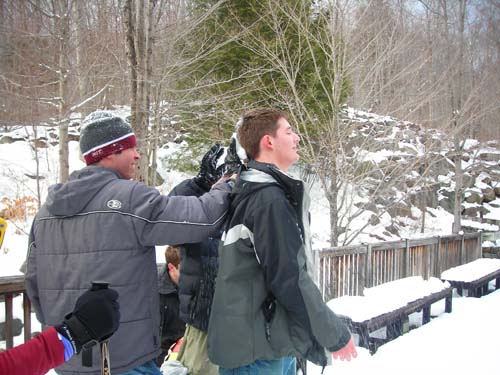 And this one. (I somehow got into a good rhythm with my camera and managed to be ready to snap pictures at exactly the right moments during this particular snowball fight.)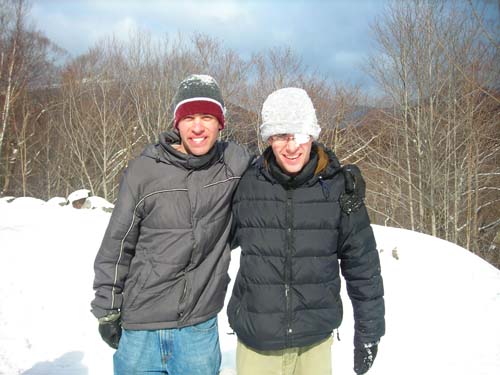 Alex '08 and Mark '09 are still friends, despite…what you see here.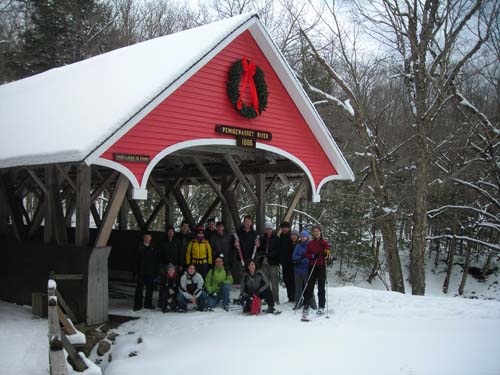 The whole group of us. (Actually, there were even more who went home right after breakfast and missed all the fun you're about to see.)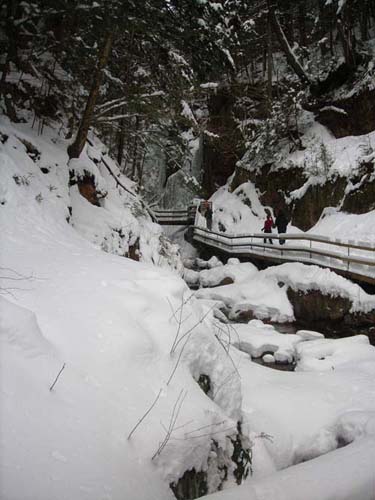 We hiked through the woods, and I literally took hundreds of pictures. The scenery was just so beautiful. I had a really hard time picking only a few for the blog.
We are warned not to continue forward, but whatever, our GRT is the most hardcore person ever. (No, really, he's been shot, stabbed, stranded on a deserted island, and so on and so on. I'm not even kidding.)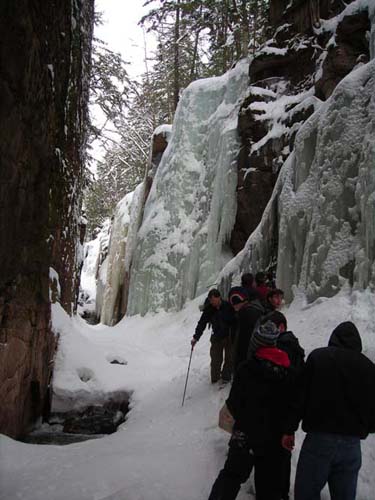 "The Flume." It's pretty awesome.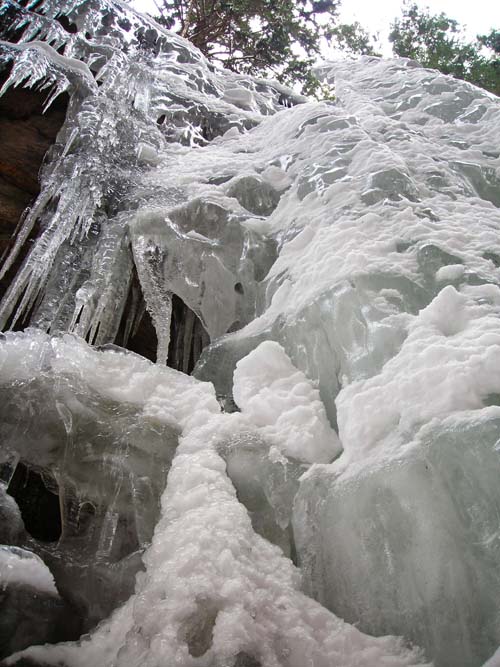 I take some artsy pictures.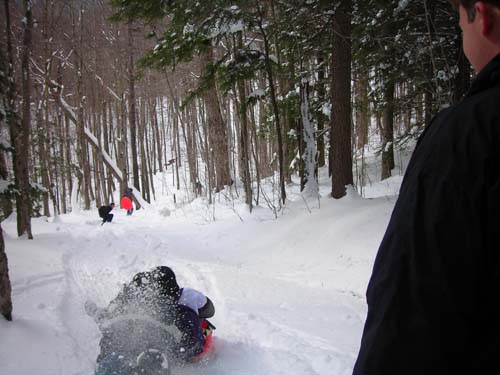 On the hike back to the cars, we stop for some snowtubing. It was a lot of fun until Rick careened right off the edge of the path.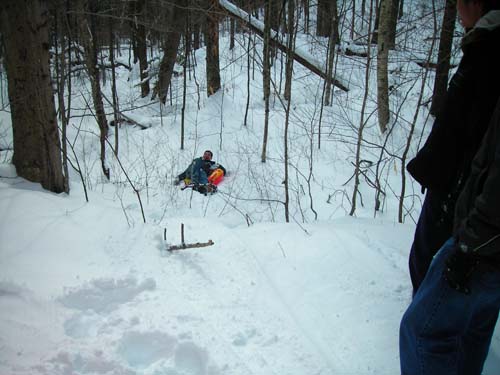 But then he got up and it was still fun after that. =)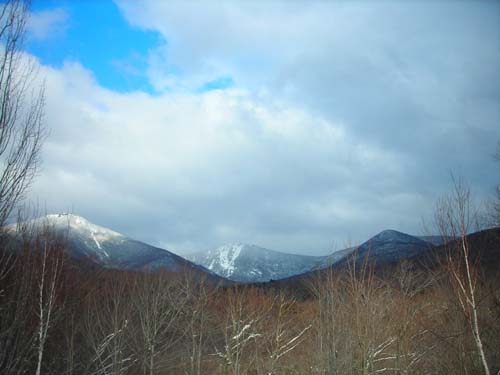 Rick '09, me, and Wes '10 are rocking the snowshoes.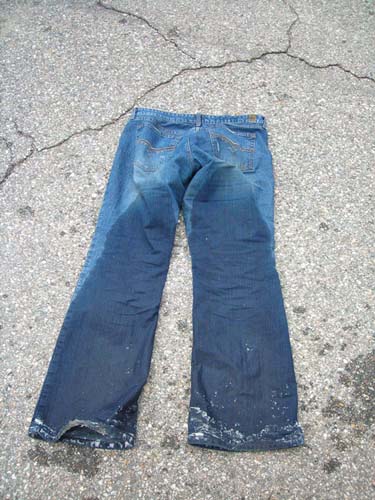 My pants got kinda wet.
And there you have it, Conner 2's awesome, snow-filled weekend adventure. I literally had the best time ever on this trip- like I said, I'd had a really rough week and it was blissful to get away from MIT and have some fun in the snow. It was definitely in the top 3 of my favorite things I've done here so far. The best part is- it was completely paid for. So for those of you who are asking if it's possible to get away from MIT sometimes, the answer is….did you read any of this blog entry? =)
16 responses to "Real Snow!"