My November is a looming list of tasks that must be accomplished. The sun is setting sooner and sooner. It's getting really cold, with the exception of the past couple of days. I've been through this seasonal dip going on four years now, and yet it still surprises me when it hits. On the bright side, I have been doing a lot of sleep… maybe even too much sleep.
Here's a list of the stuff I have to get done, and the amount of time I think each thing will take.
Grad school applications: several different versions of a personal statement; several different versions of research statements. To be done ASAP.⁠01

absolute deadline is Dec. 1 but one of my recommenders wants to see my essays to help write his letter

Time estimate: 10 hours.⁠02

I wish I were exaggerating.

Buy some new everyday shoes. The black Vans I wear every day have died, so I need to replace them with something. To be done ASAP, as I only have one other pair of shoes. Time estimate: 1 hour.
Count hours on timecards to ensure desk workers get paid. To be done by tonight at 1 am. Time estimate: 30 min.
Write blog post about making applesauce having too much to do to be able to make applesauce.⁠03

My last post was supposed to be the part one of my apple journey, with part two being an applesauce recipe. Unfortunately most of my apples are gone now and I have not yet made the apple sauce.

To be done by whenever really, but I haven't posted in a while. Time estimate: 2.5 hours.
Read 21A.508 readings,⁠04

Ethics and Culture in Sci-Fi Worlds. The topic this week is "Resources, Territory, and War." Our readings are Gerald Vizenor's <em>Bearheart: The Heirship Chronicles</em> and Paul Farmer's "Never Again? Reflections on Human Values and Human Rights"

write response, and find a resonant news item to bring to class. To be done by Monday at 10 am. Time estimate: 3.5 hours.
Read and post a forum response for this week's readings in 4.354.⁠05

Intro to Video and Related Media; our readings are from the <em>Voice and Vision</em> textbook/handbook

To be done by Monday at 8 pm. Time estimate: 1.5 hours.
Mark up, storyboard, and make a sound list for a scene in 4.354. To be done by Tuesday at 9:30 am. Time estimate: 1.5 hours.
Do 7.45⁠06

Hallmarks of Cancer

pset on epigenetics and cell death in cancer. To be done by Tuesday at 1 pm. Time estimate: 2.5 hours.
Read CMS.618 readings.⁠07

Interactive Narrative; our readings are Jorge Luis Borges's "The Garden of Forking Paths" and the professor's (Nick Montfort's) own article "Riddle Machines"

To be done by Wednesday at 2 pm. Time estimate: 2 hours.
Revise CMS.618 critical analysis paper and meet with someone in the WCC to get feedback on what else to fix. To be done by Wednesday. Time estimate: 6 hours. 08

Though I appreciate the opportunity to rewrite this paper for a better grade, these six hours need to be spent doing my grad school apps. If I had planned better and been more on top of things, I would have been able to do both, but alas these are choices. It's hard for me to justify doing non-mandatory class work when I've got anxiety about my academic future kicking me in the temples.

Study for 7.45 exam on Thursday at 1 pm. To be done by Tuesday before 7 pm.⁠09

that's when the review session is, so I need to have some questions prepared

Time estimate: 5.5 hours.
Answer phones for annual WMBR fundraiser. Happening all week, starting on Thursday, which is when I'll be answering phones. Time estimate: 6 hours.
Read articles about mutation rate in humans for 20.101.⁠10

Seminar: Metakaryotic Biology and Epidemiology

To be done by Friday at 3 pm. Time estimate: 2.5 hours.
Come up with ideas for 4.354, CMS.618, and 21A.508 final projects. To be done as soon⁠11

Because these are classes with no final exam, they all have final projects due the week before finals. This is intended to be helpful for the vast majority of MIT students, who do not take 3 HASS classes a semester and would appreciate having nothing due in their 0-1 HASS classes during the week of finals because they have technical finals to study for. As a HASS major, however, this means that I have three major projects due and an exam within a 72 hour period. Therefore, I need to be working on these as soon as I can.

as I know the guidelines for each.
Cut my hair.⁠12

with hair-cutting scissors, in my room, with my own hands (I promise it's not as bad as you think, it's punk af, and it costs no money)

To be done by… whenever but probably soon. Time estimate: 45 min.
Christmas shopping.⁠13

To be fair, I'm making this harder on myself by trying to shop mostly in brick and mortar stores to avoid contributing to the labor exploitation of people who work in delivery services; their jobs/lives get particularly difficult during the month of December. Anything I can't buy in person will be bought online through businesses that are not affiliated with Amazon/AWS. This means I kind of need to plan ahead because shipping could take a while.

To be done before December 25. Time estimate: way more hours than you would expect.
---
In addition to the stuff that hasn't been done, I'd like to acknowledge that there are some things that I have done,⁠14 as other bloggers have posted about even though they feel less significant because they are in the past.
all my assignments so far
attended every class and recitation
birthday present purchases for two sisters
rocky horror⁠15

for the fourth and final time at MIT :,-)

every other part of my grad applications, including requesting recommendations, putting together a CV, filling out the biography sections, identifying potential mentors, thinking really hard about if this is what I want to do…
eye exam⁠16

surprise! even more nearsighted than last year!

attended the quark conference
"Haunted Harbor"⁠17

in which the class of 2020 got on a boat and partied for three hours in Halloween costumes, a tradition formerly known as Boo's Cruise

most of the normal functioning human stuff like eating food and cleaning and laundry
probably a lot more stuff that Brain is repressing
In summary, this time of year is hard and is especially hard the fourth time around. I feel like this bunny in the MacGregor courtyard at 3:52 am: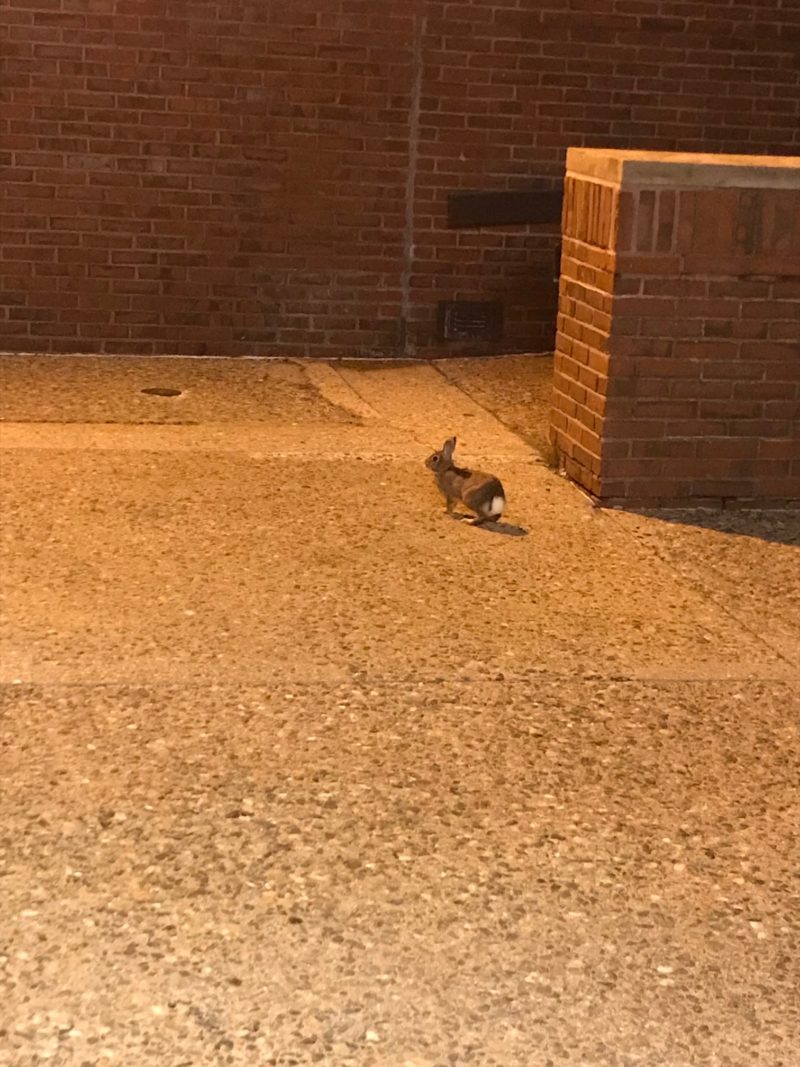 Small, neurotic, lost, and up way too late for having a 9:30 class in the morning. Nevertheless, this bunny, and other bunnies like it, will probably make it through November, one spurt of effort at a time.