Here are ten important things that happened in the past week.
1. I threw a dinner party for a bunch of people Friday, including Sam's Mom's beef stew, spinach with hot bacon dressing, squash, rosemary-cheddar biscuits, and "suite potatoe" pie. We had lots of fun and cultured conversation. I discovered that spinach, which I previously considered to be the most healthful food in the world, is actually bad for you, because it gives you gallstones. Luckily, I don't like spinach very much. That's why I have to cover it in a bacon-sugar sauce before eating it.
Actually, I just find it to be a little bitter, which may make me a supertaster.
2. I got an A on my Pulitzer-worthy essay for German I, "Mein Freund Ryan Ist Ein Schrecklich Kellner," based quite loosely on the life and employment of my high school friend Ryan at Doc Holliday's.
3. Every Friday night there's three-dollar ice skating at the Z-Center, so I headed over and kind of learned how to skate from Moria '06 and Joe '08. I was also really impressed by the skating prowess of Grant '08, who is from Laguna Beach, CA and had thus never seen ice before coming to MIT. Anyway, after an hour and a half I feel like I'm at least starting to get skating down at a conceptual level… I can do it if I switch from skate to skate slowly and keep singing to myself "j-joo, j-joo, j-joo, j-joo."
Note that despite my inability to skate, I have played exactly one game of IM ice hockey.
4. Through Dr. Bill Cutter, director of the MIT Concert Choir, I scored free tickets to the Boston Lyric Opera's production of Lucie de Lammermoor. Now, I can appreciate opera and everything–Lucie's mad scene in the second act was absolutely stunning, involving acrobatic coloratura passages by Lucie echoing a solo flute. The soprano was amazing too–she sang while dancing around, kneeling, laying down. Her voice was unstoppable.
However, the last scene was way, way, way too long. Basically, Edgard, Lucie's hot-blooded illicit lover, comes back to the castle and sings an aria about how he's going to kill himself because Lucie was unfaithful. Then he finds out that she was actually not unfaithful, but she died of being crazy just before he arrived. He was a moment too late. So then he sings another aria about how he's going to kill himself for like ten more minutes. Then he kills himself with a dagger and sings for another good two minutes before keeling over, ending his life and the opera. Not cool, Edgard.
5. MIT has posted the spring class schedule! This is like Christmas day for me. Not only that, they did it two days early. I was so excited, I almost had to leave marching band rehearsal when I found out. I was not so excited when I found out that most of the classes I want to take are on Tuesdays and Thursdays at 1 PM. What should I pick–7.36: Foundations of Computational and Systems Biology, 10.26: Chemical Engineering Projects Laboratory, or 10.391J: Sustainable Energy? I have a scant two and a half months to decide! What a conundrum.
6. Lab inspections are coming up and we have to make sure that my turkey waste is hygenic, so I completed my yearly EHS training. Part of it included a fashion quiz: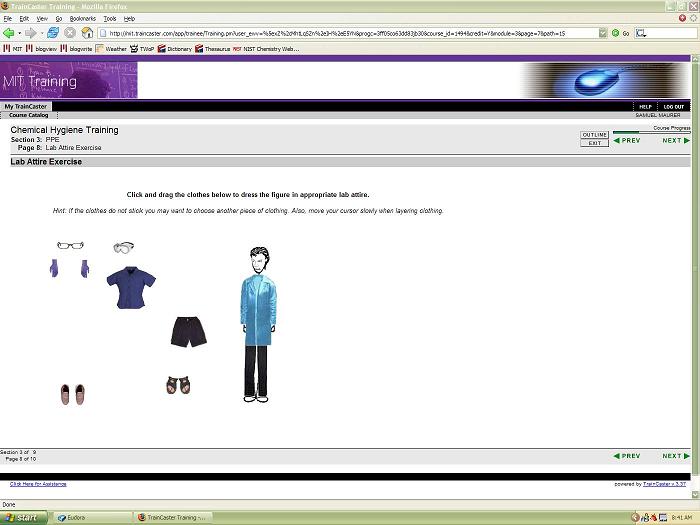 7. Got really upset that postage is going up again.
8. I went to an open mic comedy night at SaveTFP and told my one joke: "Helen Keller walked into a bar. Guess she didn't smell it coming."
I actually have two other jokes, but it's better to keep you in suspense, right?
9. According to one of my suitemates, "I was washing the dishes this morning and one broke." Well, that wasn't very nice of it. Now, normally that's not a huge issue, but it happened to be one of a set of eight color-coordinated plates and bowls and for some reason, I don't know if I can bring myself to use any of them without knowing all of them are there. So, if you find a turquoise salad bowl belonging to the Furio Home Thailand collection, be sure to let me know. Or I could just smash the other one and buy some more matching bowls.
Anyway, it's still amazing because somewhat akin to distance running or competitive Scrabble or Clay Aiken, there's this whole collectible dinnerware subculture that I'm just now discovering. Is my plate rimmed or coupe? Does it have any cutlery marks that can be seen under intense light? Are the cracks axial or lateral?
Well, maybe this is an opportunity for me to buy a new, ultra-trendy, well-engineered bowl from the Student Art Association that won't break so easily.. "Whenever God closes a door, He opens a window." —The Sound of Music
10. Applied to Bayer and BASF online. I want to get an internship in Germany this summer through MISTI's MIT-Germany program. So, as a chemical engineer, I applied to those two companies, plus Merck and ALTANAPharma. They required a picture with my application, so here's what I sent in: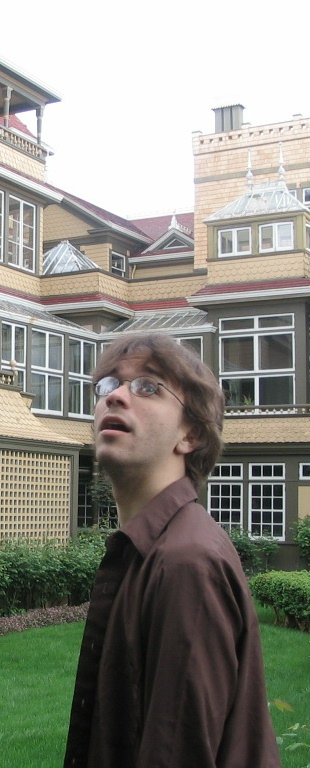 They can't refuse to hire me based on that, can they?
You should have seen the runner-up.
Maybe you will.
5 responses to "What's going on inside my head"